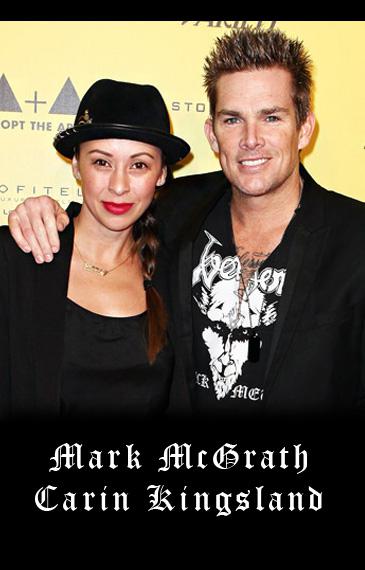 After 18 years of courtship, Sugar Ray singer Mark McGrath married longtime love Carin Kingsland.
Chip Quigley, his manager said in an statement, "Mark and Carin are tying the knot today up here in Santa Barbara."
"Just a few friends and family to celebrate their longtime love affair… Beautiful day! Great people!", he added.
The couple exchanged wedding bands on Monday morning, September 24 in front of about 60 friends and family members in Southern California. Their two-year-old twins – son Lydon and daughter Hartley – served as the ring bearer and flower girl at the vibrant and stylish occasion.
In a joint statement the couple said, "After 18 years of breakups, makeups, beautiful twins and an unwavering love that provided some pretty damn good song lyrics, we are happy to announce that we are finally married!"
The Sugar Ray front man, 44, got engaged to Kingsland, 39, on New Year's Eve 2009 when McGrath proposed at the L.A. club the Viper Room, the same spot where they met in 1994. It's the first marriage for both, Mark and Carin.
Following the success of their U.S. summer tour with contemporaries Everclear, Lit, Gin Blossoms and Marcy Playground, McGrath goes back on tour with Sugar Ray in South America in October.
Congratulations to the happy couple! Wishing you a lifetime of bliss and happiness!