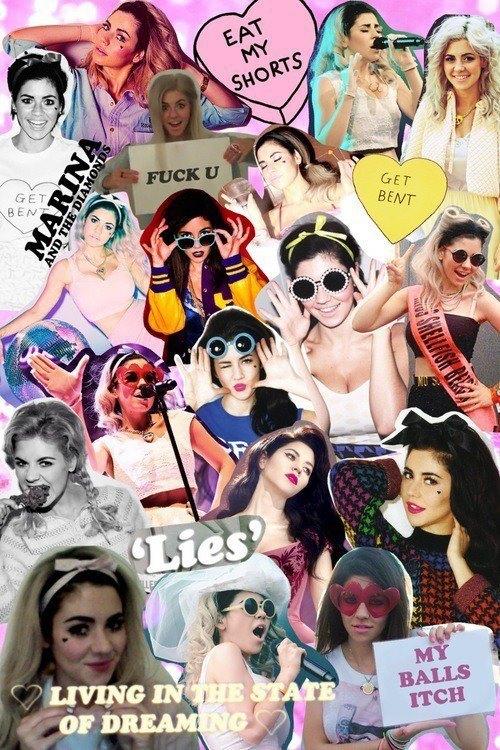 The first time I saw a picture of  Marina online, with her bows and heart-shaped mark under her eye and curly hair, I passed her by with the idle of thought of
great,
another teen pop star that's going to fade in three months. A welsh singer-song writer about the age of 27 by now, Marina is a solo artist, with the
Diamonds
part being a reference to her last name, Diamondis, and that it stands for her fans, not her track band. I didn't think of her, didn't really care for her at first. I didn't really start to appreciate her until I heard her song
Sex Yeah,
a song that I ended up playing so loudly on repeat in my room in the summer of 2011 that I ended up jacking up one of my speakers. The lyrics:
"Nothing is provocative anymore / Even for kids / No room for imagining /'Cause everyone's seen everything / Question what the TV tells you / Question what a pop star sells you /Question mom and question dad /Question good and question bad."
"If history could set you free (from who you were supposed to be) /If sex in our society (didn't tell a girl who she would be) /'Cause all my life I've tried to fight what history has given me
If women were religiously/Recognized sexually/We wouldn't have to feel the need to show our ass, / Just to feel free /Been there, done that /Got the t-shirt/Sold my soul/And yeah the truth hurts /Tired image of a star /Acting naughtier than we really are"
Well I actually enjoyed the music for this song, the lyrics really blew me away. It's so rare for "successful" female pop stars to write about female sexuality without somehow relating it to men or superiority/inferiority to other women. Marina identified as a feminist in 2010 in
interview
for the magazine
Company,
and I think that you can see this is in a lot of her lyrics. In an interview with the Charlotte Observer in 2012, Marina commented on her feminism:
"Sometimes, I think it's circumstantial in terms of how you've been brought up and faced oppression, or felt different than your male counterparts," she says of her willingness to own the term. "My dad was a Greek man. He treated me differently than a boy. That angered me. And I was stubborn and headstrong, and you apply that to what happens in your life.
"I enjoy when I see female artists speaking about feminism and acknowledging it's this something to talk about."