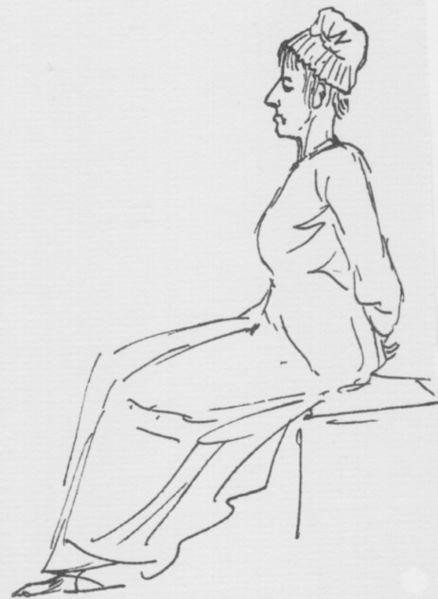 Marie Antoinette on the Way to the Guillotine, JL David, 1793. Photo: Musée Louvre.
'The majority of the crowd was curiously silent until she reached the Rue St Honoré, where the stalwarts of the Revolution, the worst of the poissardes were waiting to gloat over her fall. A low class actor called Grammont was strutting around on horseback, brandishing a sword and shouting, 'Here goes the wicked Antoinette! She is finally finished, my friends!' And here stood David, a great artist but a despicable human being, a regicide who now licked the boots of Robespierre and was later to pay homage to Bonaparte. In those few short moments he sketched that memorable and cruel likeness of a shattered woman, all beauty gone, with nothing left but pride and a grim determination to die in a manner worthy of her ancestors. She stares ahead, with the Hapsburg lips, which were once a pretty pout, set in a look of utter contempt.' — from Marie Antoinette, Joan Haslip, 1987.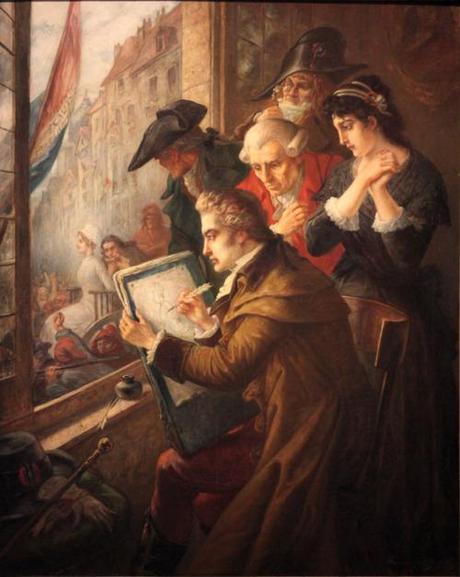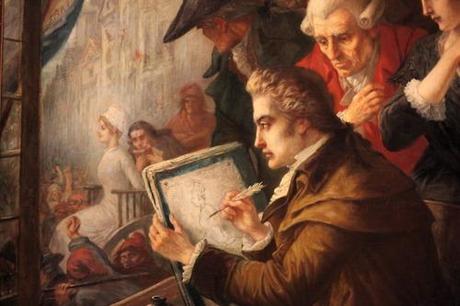 Le peintre David dessinant Marie-Antoinette conduite au supplice, 1793, Büssche, 1900. Photo: Musée de la Révolution, Château de Vizille.

There is no tenderness, no sympathy in David's pitiless sketch of the beleaguered Queen of France as she was transported in public view to the guillotine and it stands as a stark contrast to her portraits as a pampered and flattered young Queen by the likes of Vigée Lebrun, Drouais and others. In fact, a greater contrast to her depiction, garbed in cornflower blue silk and toying with a pink rose in the gardens of the Petit Trianon just ten years before, can't possibly be imagined.
******
Check out my new alternative lifestyle blog, Gin Blossoms!
'Frothy, light hearted, gorgeous. The perfect summer read.' Minette, my young adult novel of 17th century posh doom and intrigue is now £2.02 from Amazon UK and $2.99 from Amazon US.
Blood Sisters, my novel of posh doom and iniquity during the French Revolution is just a fiver (offer is UK only sorry!) right now! Just use the clicky box on my blog sidebar to order your copy!
Follow me on Instagram.

Copyright secured by Digiprove © 2013 Melanie Clegg