It was a day the government calls "National Unity Day" but there was little unity across Russian cities as a variety of conflicting protests took place. There were pro-Kremlin marchers, Nazi and Skinhead groups, and several anti-government marches. Despite the fact that the Kremlin has done much to relabel anyone who supports Ukraine as a fascist and Nazi, the real fascists–young groups of Nationalists and Skinheads were out in force across Russia.
The Nazi and Skinhead marches were not altogether pro-Kremlin however as marchers blamed current polices on the influx of immigrant workers from nearby Asian countries, condemned the war in Syria, and blamed the downing of a Russian passenger jet over Egypt on retaliation for actions by the Russian military.
Some protesters targeted migrants who are flooding Europe due to fighting across the Middle East. Marchers chanted slogans like "Европа будет белой' (Europe is White) to protest countries that accept refugees.

However, most of the marches were strongly pro-Russia as crowds cheered and chanted slogans in support of President Putin. A majority of Russian citizens believe that Russia is under siege by the West. The holiday, known as National Unity Day, was established by the government a decade ago.
As for democratic and anti-Kremlin protests, police say that the march in Moscow, the largest, was attended by 500 persons. March organizers admit that the numbers were low, but point out the history of Russian authorities to underestimate protests against the government while overestimating when demonstrations are pro-government. There were as many police in attendance as protesters, a continuing sign that citizen interest in Russian affairs makes this government nervous.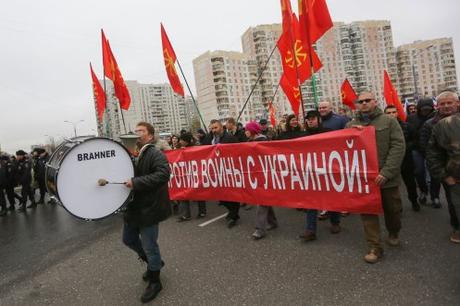 Banner: "Against War in Ukraine." (Фото: М. Стулов / Ведомости)
The primary theme of the pro-democracy marches centered around the war in Ukraine, a conflict that supposedly does not exist according to the state controlled media. While the government remains consistent in denying that Russia troops are in Ukraine, an increasing number of soldiers are facing legal charges for refusing to go on unspecified "training missions."