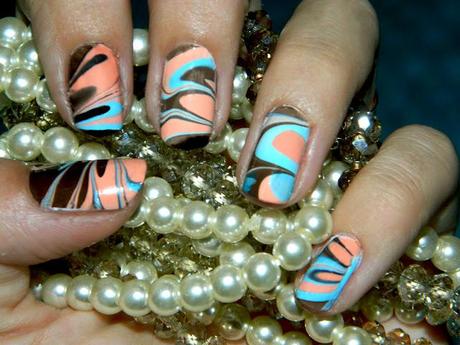 Although it takes pretty long time to do this process on ALL the fingers.. It's pretty cool! I've done this twice in the past, and got a lot of compliments and questions about it. So here it is: Marble nail art how to! :)
You don't need any special ingredients and tools for this. Just a few basic things anyone has at home.
You're gonna need:
# A bowl of water at room temperature (Sorry about my dirty bowl.. I just use it only for this)
# A light base polish (white works best)
# 3 (or more) of your favorite nail polishes
# Top coat
# A toothpick
# Duct tape
* Below the photo tutorial you'll find all the steps explained in words.



1. Paint your nails with the base polish.
2. Apply duct tape around the nails to protect the surrounding skin from the polish.
3. Drop drops of nail polish to the bowl with water, one after another, creating circles on the water .
4. Using a toothpick (or anything else sharp & precise), create marble lines by moving it in the polish circles.
5. Dip your finger inside the nail polish "drawing" in the bowl of water.
6. Remove access of polish surrounding your finger in the water, using the toothpick. Then remove your finger from the water.
7. Remove the duct tape and apply top coat!
Hope you find this helpful! :)