South Korea's Nexon will be launch her first facebook games soon. For some adorable, wide-eyed characters game lovers you will soon will taste one of the best MMORPG games ever played, Mapple Story.
You can read on their official facebook page:
Maple Story offers a world in which fantastical adventures and realistic interaction collide. It is a place where hunting monsters and casting spells is as ordinary as befriending a stranger down the street. All it takes is simply creating your own character to venture out into the world of MapleStory—where it really becomes your story.
Mapple Story is a version of a popular Korean MMO (massively multiplayer online game), where you create an avatar and then traverse various landscapes, carrying out quests that often involve whacking cute, but aggressive, monsters in exchange for experience points and sweet loot.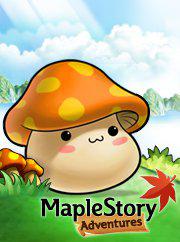 The game is in its closed beta stage still, meaning users have to request and receive permission to play. Over time, Nexon will roll the game out to more players.
Get to know Maple Story and Play the free online games on Facebook
Since Mapple Story is a 2D type of a free games MMORPG, it is really not that hard to transform it to facebook apps platform. People reportedly that Mapple Story has a simpler interface while allowing them to complete quests, level up and defeat monsters in the same style.
Each area has a variety of cute non-player characters and monsters to fight. You can hire your friends to join your party and help you attack monsters in an asynchronous fashion.
Daniel Kim, CEO of Nexon America was saying that the closed beta period for MapleStory Adventures marks a watershed moment for Nexon. One of our key goals is to open our games to the widest audience possible, and Facebook is the perfect platform to both introduce new players to the MapleStory franchise and allow current fans to extend their experience into a new social territory.
Sound so promising right? Prepare your journey on this free multiplayer online games