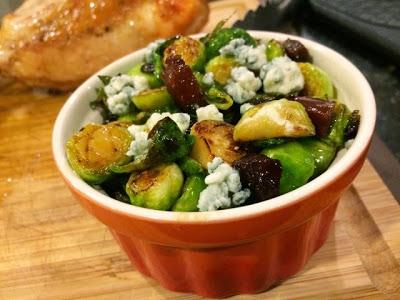 Can I tell you guys how much I LOVE brussels sprouts? I never ate these little morsels of amazingness growing up, but I sure make up for it as an adult. Whoever says they hate brussels sprouts please try them again. Not boiled. That is gross. Sauteed with some maple syrup, bacon and blue cheese crumbles. You can thank me later. We make this dish every week, but it would also be great on Thanksgiving. I made brussels for Thanksgiving last year and they were so easy! You can roast them, but I prefer to saute them. I pre-sauteed them in the morning and then finished them off when family arrived in five minutes. For this dish, I used this fantastic wild boar bacon we got from a local farmers market, but feel free to use whatever kind you like. Now let's talk abotu maple syrup. PLEASE do not use the sugar water type syrup shaped like a person. Get real maple syrup. It is worth the extra couple of dollars. Hell, I got organic pure maple syrup from trader Joe's for $7. And lastly, the amazing blue cheese. Some people have a blue cheese aversion, so maybe serve it on the side? It is such a perfect combo with the bacon and sweet syrup. 
What is your Favorite Thanksgiving side dish?
Ingredients:
1 pound of brussels sprouts cut in half
3 strips of bacon ( chopped)
2 tablespoons of maple syrup
1/4 cup of blue cheese
Salt & Pepper to taste
Directions:
1. Chop up bacon and saute on medium meat until crispy. Spoon out bacon and leave oil. 
2. Chop sprouts in half and put in pan with bacon fat. Saute until sprouts are tender (10-12 minutes.)
3. Add bacon bacon and turn off heat. Add maple syrup and saute further. Add blue cheese. 
4. Enjoy & Serve!