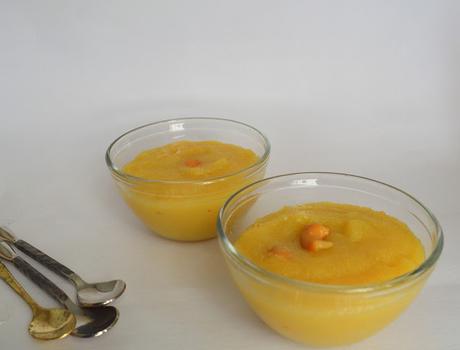 Before the mango say bid adieu this year let me finish off posting my mango recipes left out in my draft.Sheera / Kesari is one such simple and easy recipe to make when you are in a hurry to make any dessert/sweet.
Making this Kesari is not a rocket science and you need not be a great cook to make this, even a beginner can try this easy sweet in a jiffy.The procedure of making this dessert is same as ordinary kesari and the only thing is mango need to pureed and add to the cooked rava/sooji
with not much stories lets go direct to the recipe.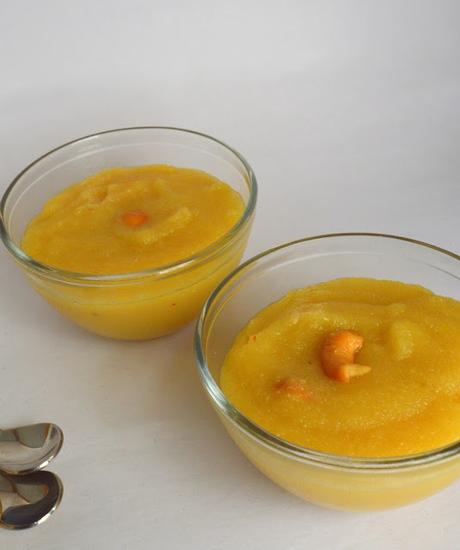 Preparation time: 5 mins
cooking time: under 15 mins
serves :2-3
Ingredients:
Rava/sooji-1\2 cup
mango pieces- 4-5
Saffron -few strands
sugar-1\3 to 1\2 cup
cashew nuts-few
ghee- 1 tsp + 1 tbsp
cardamon powder-1\4 tsp
1.To a mixer/blender add mango pieces,sugar & saffron strands .Grind it to a fine paste.

2.Heat 1 tsp ghee in a non-sticky tawa and roast cashew nut and keep aside.In the same pan roast the raw till aroma comes ,be careful not to burn it.Keep it aside.

3.Boil 1 & 1\2 cup water.Slowly add in roasted rava and stir continuously.Cover and keep for a while till it get cooked.
4.When the rava is cooked well add the pureed mango -sugar mix.Add ghee in intervals and keep mixing.

5.Add in cardamom powder and ghee roasted cashew nut,mix it.
Serve hot or warm.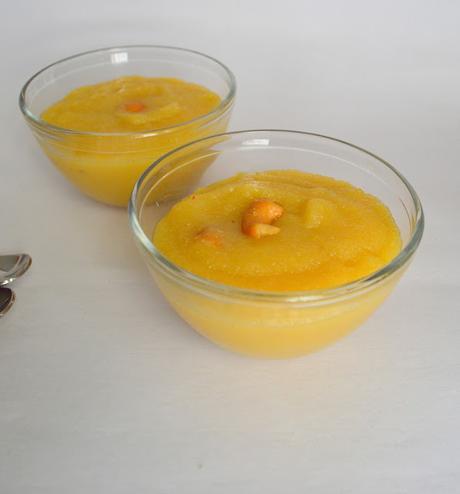 Note:
1.Adjust sugar according to your sweet tolerance level.