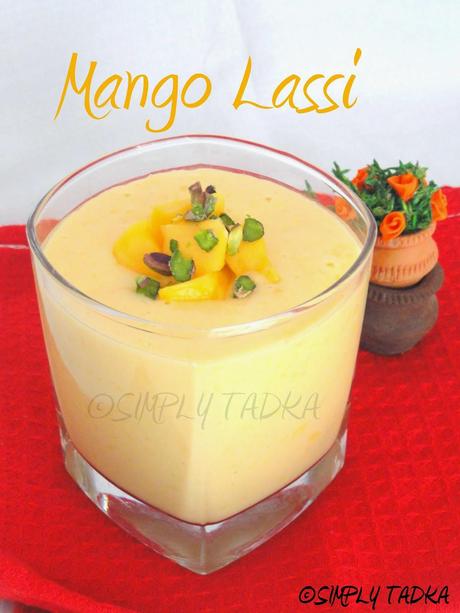 Mango lassi is smooth cold beverage which prepared with ripe mangoes and fresh yogurt. It's a wonderful drink for hot summer days to make our meal more powerful. Mango is the national fruit of India as well as very beneficial for health. It's a 
favorite
 fruit amongst all age groups.
Preparation Time: 10 Minutes
Cooking Time: 0 Minutes
Servings: 4
Category: Beverages
Ingredients:
2 Ripe Mangoes, Peeled and Chopped
1 Cup Fresh Yogurt
1/3 Cup Milk
Sugar to taste
1/4 Tsp. Cardamom Powder
Few Mangoes, Chopped for garnishing
Few Chopped Pistachios for garnishing
Few Ice cubes
Instructions:
Blend the chopped mangoes, yogurt, milk and sugar together in big jar, add cardamom powder and ice cubes to mix it.
Garnish with chopped mangoes and pistachios. Serve chilled mango lassi.
Tags
: how to prepare mango lassi, lassi recipes, summer recipes, beverages, drinks, mango recipes, aam recipes, how to made mango lassi at home, curd recipes, yogurt recipe.
Blogging Marathon page for the other Blogging Marathoners doing BM#

41
Enter your email address:
Delivered by
FeedBurner