I haven't known of anyone who dislikes a mango, even my fruits-detesting aunt love just one fruit and it is this. Unless if it's you, I don't know why you would. Summer is that time of the year when abundance in varieties of mangoes flood the markets and it is as beautiful a sight to watch as it is a treat for your nostrils to take in the sweet fragrance from each fruit. We usually buy alphonsoes from Al Aweer market, in Dubai, where stash of boxes are strategically placed in the front on top of each other to attract the customers amongst many seasonal fruits from countries like India, Oman, Jordan, USA, Australia, etc.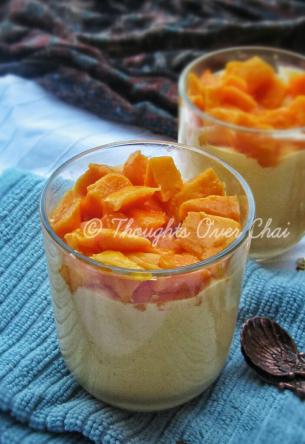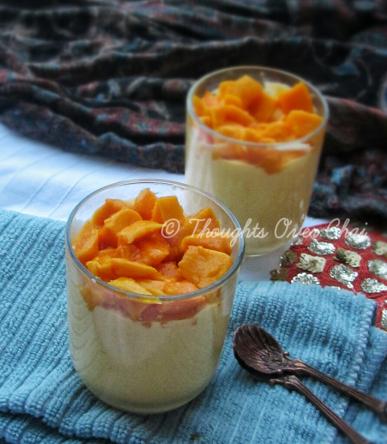 Back in Bombay, each household had their darling vendor who delivered at the doorstep or some who pulled carts near the houses calling for people to buy Hapus from them. If we consumed  our box of mangoes before our vendor came to deliver the next one, my sister and I accompanied mom to the market located just a few steps away from our apartment. We sneaked up to a watch repairer who pulled our cheeks and explored every new vegetable on our way; we'd shield cautiously behind mom's dupatta as a street dog made its unexpected appearance and then walking into an enclosure of a structure that was a fish market, made us pique our noses in displeasure for its pungent smell. Then we'd watch mom's teaching habits flow into her tactful bargains with Alphonso-selling dealer as politely as she could. Those mangoes were either eaten from the skin or blended into voluptuous aam-ras and served with a dollop of fresh cream and pooris for breakfast.
Having shifted to Bombay a few years prior, our commute from suburb (where we lived) to South Bombay was only limited to mom's shopping sprees in cramped up lanes of Bhendi Bazaar to buy ornaments or religious attires or our occasional visits to Raudat Tahera (a burial of Dawoodi Bohra's 51st dai, at the time) and hence we missed on many elevated assortment of experiences the city had to offer. My early memory of having a bowl of luscious mango cream was during our visit to Haji Ali Dargah in the interim of our summer vacation with a group of mom's friends from school where she taught. I should be around 14-15 years of age and can recollect how magnificent my first look of Dargah was – standing in the middle of the Arabian sea with full pride and glory untouched and unwithered yet a fascinating figure holding many stories to tell. The only path snaking to the tomb of Pir Haji Ali Shah sees a lot of devotees from every religion bereft of any religious or creed differences. And it is places like these I love to visit time and again. By the time we walked out of the dargah, it was mid afternoon. The only way to cool down was to stop at Haji Ali Juice Center, situated on the promenade, and indulge in many frozen delights, milkshakes and ice creams bustling our order for more than 10 people in the group through a never-ending disrupted queue. That was the first time we tucked into a bowl of velvety and rich mango cream after huge patience – every bite that has memories attached. And then during my working years, I'd stop at the juice center for mango or sitaphal (custard apple) cream, if they were in season, each time I was placed for audits in Worli and enjoyed them just as I did the very first time!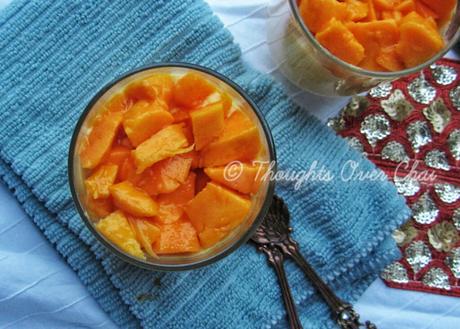 And since summer is all about the holiday season, a dessert should be sweet, tropical and satisfying. Isn't it? As soon as mangoes spruce up my fruit bowl, one dessert I most often want to whip up are the bowls of mango cream….a la Haji Ali Juice Center style. Now, this recipe isn't a copycat of what you may get at the famed cafeteria, but certainly give you the essence of simplicity and home-made goodness that we heartily fall for. With a lot of excitement and research to look online for that perfect mango cream recipe which could match the ingredients they use in their modus-operandi, I settled to this one which has just 3 ingredients and is a two-step process. It's not always that I take a plunge towards easy recipes but these are the kind I usually end up cooking because with a child at home, it is best to wrap up the kitchen work without much delay. However, you shouldn't write it off for its chastity – a bowl of well-frozen fresh mango cream is all you need in those hot days till the mango season last.
Mango Cream
Servings: 4
Difficulty: Easy
Ingredients –
Mango puree – 2 cups
Heavy whipping cream – 1 cup
Diced mangoes – 1 cup or more
Powdered Sugar – 2 tbsp or more (my mangoes were very sweet so add depending on the sweetness of the fruit)
Method-
Whip the cream with about 2tbsps of sugar until stiff peaks form. Chill in the refrigerator. Peel the mangoes and cut not too close to the seed. Puree them in a blender. Gently fold the mango puree and some diced mangoes into the cream. Check for sweetness at this stage and add if you think the taste is bland. Pour into the serving glasses or bowls and top with as much mango cubes as you want, but not too little. Cover with a cling film and chill atleast for an hour before serving.