Did you know that Mango is considered to be the King of all Indian Fruits? Well, now you know....
This is the time when Indian markets would be inundated with mangoes both raw and ripe. There are around 500 varieties of mangoes and if I am recollecting it right- I might have tasted like 10....maybe a couple more! I remember my Grandmother soaking the freshly bought mangoes in a tub of cold weather, reason- to cool off the first harvest of mango and also to clean off the chemicals that were used to ripen the mangoes. My grandmother would bring home both raw and ripe ones. We would eat some raw mangoes as a sweet and savory snack ( coated with salt, sugar and red paprika ) and the rest would go into making pickles. When I say pickles, by no means am I talking about the vinegar-drenched ones, I am one hundred percent pointing towards the ones drenched in mustard oil and a spicy mix of ground mustard, red chili powder and salt.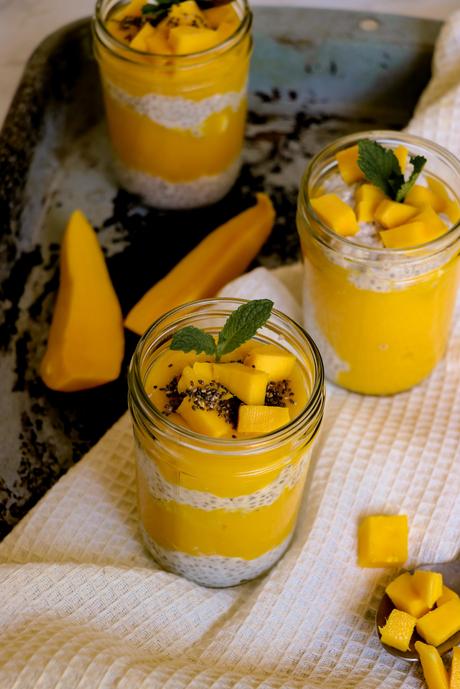 Anyways, mango is my all-time favorite fruit and I am glad so is Ms. Riri's. Our eyes lit up at the sight of fresh mangoes. So when husband picked up a crate of it during his last visit to the Indian store, I knew right away what was coming up- this mango chia pudding that I have been wanting to make forever. I'm glad I did cuz it is the easiest, fastest, yummiest mango dessert you will ever make and it is GF, lactose-free- BONUS! There is no scope of any error and it will always turn out good. You can certainly control the level of sweetness by adjusting the quantity of maple syrup but otherwise the measurements given below are precise.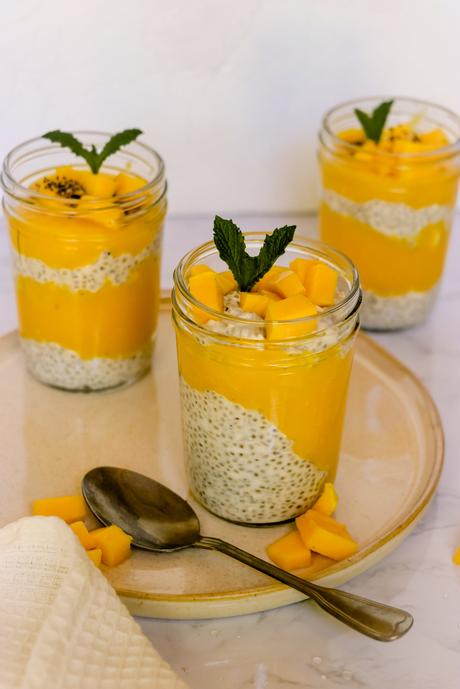 You can eat this for breakfast, as a snack or simply enjoy it as a dessert. As for the layering, it is totally up to you- you could go high on the mango and low on the coconut-chia mixture if you like more fruit or vice-versa. Topping options are unlimited too, mango bits, fresh chia seeds, toasted coconut shreds, or even granola are some of the garnishing options that come to my mind. You could get creative and garnish it to your choosing.
Pin for later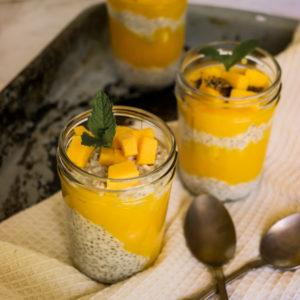 Mango Chia Pudding
A quick and easy summer dessert
Pour out the coconut milk in a deep bowl. Add the maple syrup, vanilla and chia seeds to it. Leave it overnight in the fridge or till the chia seeds fluff up. The coconut milk will thicken like gelatin.

Puree the mango in the food processor.

Layer the coconut milk/ chia mixture and pureed mango in any order you like. You could use granola in between to layer.

Top it with some mango bits and mint leaves. You could also use toasted coconut for garnishing.