This week has been full of recipes and DIY.  Hopefully you aren't sick of them! 
I got on the scale the other day and wanted to die.  That's a post for another time, though. Needless to say, I need to be eating a whole lot more of what this recipe has to offer:  good clean healthy yummies.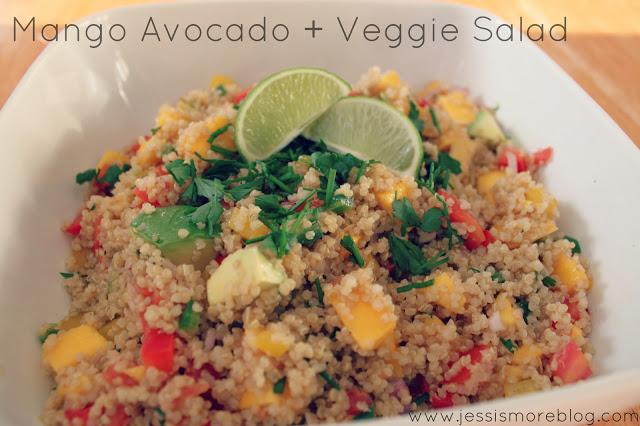 This salad makes for a perfect party side-dish.  You can also serve it with grilled chicken or fish for a weeknight dinner.  Versatility, y'all. 
Ingredients
Salad4 cups cooked quinoa, cooled 2 mangoes, peeled and diced 1 red bell pepper, diced 2 roma tomatoes, diced 1/2 yellow bell pepper, diced 1 jalapeno, seeded and diced1 ripe avocado, pitted and diced 1/2 lime, juiced
Dressing1/2 c extra virgin olive oil 1 shallot, diced1 tsp dijon mustard1/4 tsp salt + pepper1 bunch mixed herbs:  chives, parsley, cilantro - to taste 1/2 lemon, juiced  
DirectionsCook quinoa per package instructions and let cool.In a small bowl, whisk together dressing ingredients.  Set aside. Mix together veggies/fruits (except avocado) with quinoa.  Pour dressing over mixture.  Mix well. Let sit in fridge for approximately 30 minutes to let flavors mingle.  Add avocado before serving.  Garnish with extra mixed herbs and a lime wedge.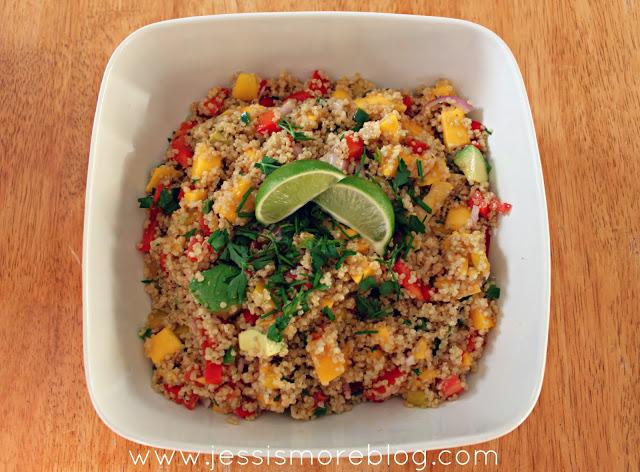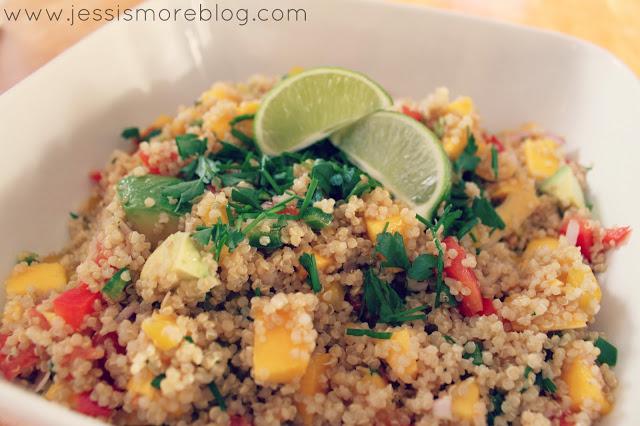 Enjoy!