The SAG Awards had a red-carpet FULL of beautiful gowns and inspiring makeup. However one stand thing was Mandy Moore's insanely gorgeous and super volumized hair. It was the perfect mix old Hollywood glam and modern sass.
Well if you want to recreate the look at home and DON'T have a whole Glam Squad at your fingertips. Look no further than the  VOLOOM, the weirdest, coolest new hair gadget I've seen in a LONG time.  VOLOOM ($129) is the ONLY hot tool specifically designed to add lasting volume – EASILY & without product OR expensive blowouts – and will help you get the red carpet treatment, sans stylist!!. The secret is in the patented plates which gently build lasting structure and texture into the under-layers of the hair. Lifting the top layers up and away from the scalp… I like to call them "volume pockets." It only takes minutes to use and the results are worthy of any red carpet…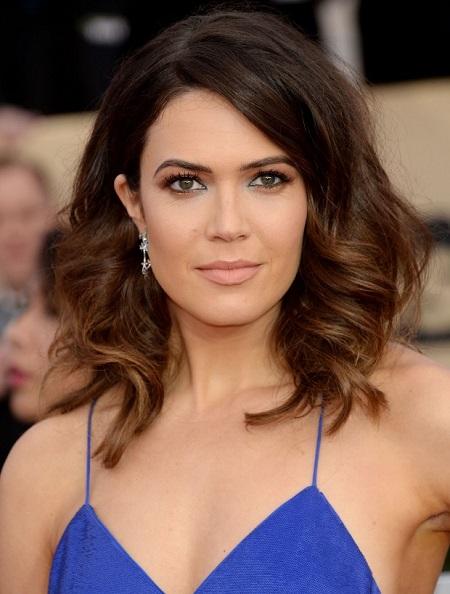 Mandy Moore's BIG SAG Awards Hair @ Home
 WHAT YOU NEED: Voloom,, Heat Mat, Sectioning comb and clips (all included with purchase of your Voloom!), large-barrel curling iron
 TO USE:
Apply any styling product you typically like to use on damp hair and allow to airdry.
Section a top layer of your hair on one side of your part; clip it out of the way
Take another thin section directly underneath the first section and hold it straight out from your head
Use a "clamp & release" action (similar to a crimper!) action for only a second of two at the root. Depending on how much volume you want, you can move the iron down the strand and clamp it again (as long as your top layers are long enough to cover the portion you Voloom!)
Clip the section you just did away and continue to move down, creating similar sections until you reach desired amount of volume
Release clip and place top layer back over the sections you just ironed
Repeat around head
Curl ends with a large-barrel curling iron
Brush out from root to tip – this will not only brush out any "crimp" pattern from Voloom, but will also give your curls that messy, tousled texture!
Mandy Moore's BIG SAG Awards Hair @ Home