New year, new semester, new classes, new bible studies, new activities, new opportunities. We are halfway through January and the month is full of newness. This pile of new has made me realize that I need to develop new plans for organization and time management in my life!
The first thing I did was make a list of what was important to me and what responsibilities I have to maintain daily to be successful. Some of these things fight for my time, and I have conflicts with choosing between what I should do and what I would like to do.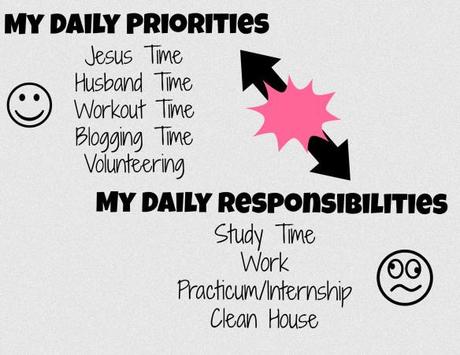 Looking at my list, I see that some of the things that are important to me (priorities) should be sacrificed for my greater responsibilities. The first two priorities, Jesus Time and Husband Time, wont be sacrificed for anything. For example, no matter how bad I want to spend time on my blog, I want to make sure to keep husband time > than blog time.
Instead of scheduling my day hour-by-hour, I found that the easiest thing to do was block off hours and dictate what was not allowed to happen during that time. The thought of planning what not to do in a given time never occurred to me before, but after thinking it through, I have a lot of confidence in this method.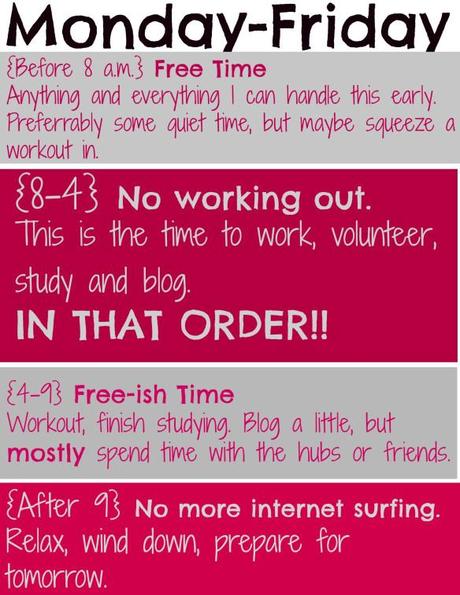 This type of scheduling allows me to be open to changes, but stand firm on where I wont be spending my time.
The time that I am most concerned with productivity is from 8 a.m. – 4 p.m. Most days all I can think about is when will I fit my workout in. I have noticed that I give working out precedence over some big responsibilities. Since this is a new semester, I am putting an end to this. I hope that giving myself an 8 hour day to do work (work-work, class work, volunteer work, etc.) will help me better manage my time within that 8 hours.
I want to challenge you to block off some time where you can so no to a distraction. It can be as small as 30 minutes if you like! Make a list and recognize what needs to get done in order for you to be responsible and successful each day.
Another example: From 6 p.m. to 8 p.m. – No T.V. Time. That way you can spend your time crossing things off your daily to-do list or perhaps going to the gym! Make it personal to fit your daily priorities and responsibilities.
Do you have any interesting time management techniques? 
What might you say no to, in order to focus on something else for a short time?