Has management advice actually made any progress?
Doesn't seem so. Prominent business leaders, management gurus, and leading academics – all three have a history of failure.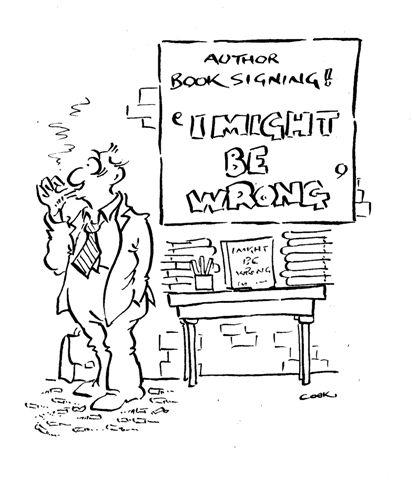 It can happen anywhere, anytime. I worked for three years in Singapore in the 1980s. Each year someone was designated "Businessman of the Year". All three nominees suffered ignominious reversals before I had left, including goal time.

Enron regularly won the "most innovative" award in many a business journal before its collapse. The CEO is still in prison.

Market position is no barrier to trouble. Fully 25% of the Fortune 500 made losses in 2009. Nearly half the companies lauded in Jim Collins landmark management tome, "Built to Last", have struggled since the book was published. Some have not lasted at all.

Twenty years later, Collins wrote another book called "How the mighty fall".  "How to" books by prominent business leaders have a similar, patchy record.

Biographies fare slightly better, probably because they simply tell the story rather than distill history into grand principles.

If you read the biographies of Richard Branson, or Steve Jobs – and most certainly Mark Zuckerberg – you don't come away thinking that they had things like business plans or strategy maps. Basically they just got on with it. Some things worked; others didn't.
Timing and luck always play a part.
That's what business risk is about. You can't eliminate it. You can only manage it. Results come from taking the appropriate action at the appropriate time – something common to Branson, Jobs and Zuckerberg.
The use-by date of strategic plans starts ticking the moment they are signed off. Success from that point on is up to management action. 
Do all these theories help us? Some are inspiring. Some bring an element of clarity to our thinking. But mimicry rarely offers a solution. That's because you are not in the same business, you don't face the same environment, and most importantly, you are you, not someone you read about. 
What is common to the successful biographies (unsuccessful people rarely write them) is that the subjects found their own strengths.
What are yours?
Many people are familiar with SWOT analysis, where they have analyzed the strengths, weakness, opportunities and threats of a particular business or product. It's a simple organizing matrix rather than a silver bullet, but it can get people focused on their own environment rather than someone else's.
Try doing one on yourself. Get together with some trusted colleagues or friends and see what you can put in each quadrant. Everyone has some strengths somewhere. Working with others will highlight yours. Others will often see skills that you can't, or capabilities that you have but you don't realize how powerful they are.
Like a good spouse, they will probably also give you some clarity around your weaknesses. 
The result will be a clearer view of what your opportunities are. They will be different to the ones seen by Branson et al. But they will be yours, and they'll be based on your strengths, not somebody else's.
Reading motivational management books has value. They can give you ideas and inspiration. But as Judy Garland, an entertainer famous for her authentic style, once said, "You were born an original, don't die a copy."
For a simple walk through a personal swot, go the the Recharge Workshop and download "Optimise Your Own Productivity".