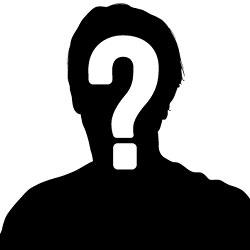 Every now and then, I'm forced to place my often rampant cynicism in a jar and shut it tight.
I am forced to do this every time someone proves me wrong about my many (sometimes slightly negative) views on relationships and chivalry – and men as a gender. (And you can imagine how much I hate that.)
So yesterday I returned to the office after a YSL skin care launch, feeling pretty stressed about the volume of writing on my to-do list when I noticed a long white box with a fabulous pink ribbon – and a note.
Now, in my gig – I get sent quite a few things from various PRs everyday, so a package on my desk didn't force me into action straight away. It wasn't until the girls in my office started looking at me from over the cubicles and gathering around my corner that I started to take notice. At first I thought that they were playing some sort of prank on me – I'm not exempt from being the butt of a joke around here, but what they wanted was to find out what was in the long white box on my desk. They were basically on the edge of their seats waiting for my return – we do love a bit of a mystery around here after all.
I began to open the box, and unwrapped a fantastically beautiful bright yellow rose, complete with mini vase, wrapped in more of the same pink ribbon/tissue paper. I instantly grabbed the note – thinking a super cute PR had gone to new lengths, until I read what was written…
"Carrie, I hope this gesture makes you smile. Regards, Man of mystery."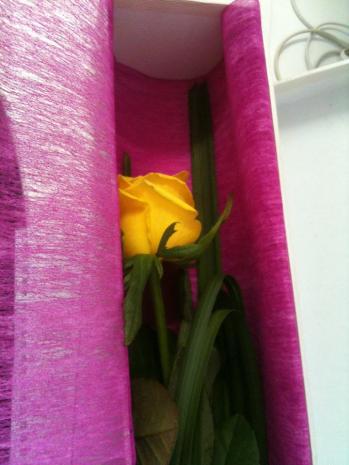 Well – I was instantly stumped.
Obviously the gift was from someone who reads this 'ere blog – and well, the reference to the 'gesture' must have been taken from my Valentine's Day blog, where I emphasize the importance of never underestimating the power of a 'gesture.'
Other clues were the yellow rose itself, which iconically symbolises 'friendship'. Was the gift from a good friend who genuinely wanted to make me smile? Or are boys just a little daft when it comes to rose-colours and their meanings? (I myself had to google the meaning – so it's a mistake easily made.)
Annoyingly, there was no trace of a florist or delivery company – so I couldn't even turn on the super sleuth inside of me and find out who this guy is. I was/am/hopefully won't always be completely and utterly stumped.
In any case, this is a call out for this Man of mystery to show himself, so I can thank him. This kind of thing only happens in one of two places – chick flicks and girls' dreams – so I'd like to personally thank this mystery person for showing me up in one of the cutest, most appreciated ways I can think of. You have helped shift my stance on the way the world works – which is not an easy task.

NQC x
Has anything like this ever happened to you?
Can anyone put their Sherlock hat on and help me find this guy?
What do you think it means?
Advertisement