This plant only eats once a year and is fed by the children that didn't use their manners from last Halloween. As you can see this plant does not go hungry. I don't know if it a man eater anymore than an ill mannered child eater. I created this man eater out of a balloon and paper mache (see my recipe for paper mache paste here) http://tampster1.blogspot.ca/2015/10/haunted-paper-mache-pumpkins.html#.VhKOI_lViko.So to start this project,  I first covered the base in a few layers of stripping and then took fuller sheets that have been soaked in the paste and folded and manipulated it to form the ridge.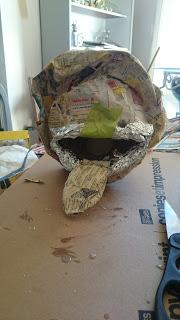 The tongue is just the mouth cut out, turned 90 degrees and reattached. The mouth was built up using tinfoil that was rolled into a snake and taped on. Then it was all mached together.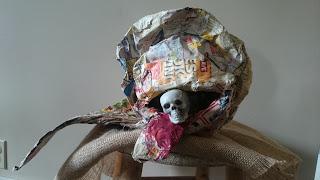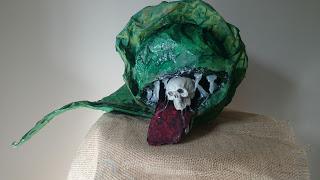 I cut some thin corrugated cardboard in the shape of the leaf and paper mached it into place. Then I added some veins using pasted paper towels that i laid down to add dimension. Wait for everything to dry and paint in whatever colors you wish, For this plant i used greens and burnt siennas for the body of the plant and some burgandy and black for the mouth region.  To finish this man eater  I added in a small skull, some some glue gun teeth and drool.  Seal with an outdoor sealer and your ready to add it to your Halloween display.  I kept his mouth open so that if i wanted to add lighting I could, or if I find I need to weigh it down i'll just add some sand.