It had to happen after our month of tropical temperatures and unbroken sunshine. Farmers, gardeners and otters were thankful of the reprieve. 80 runners with 53 miles to run and maps to read were a little less enthusiastic.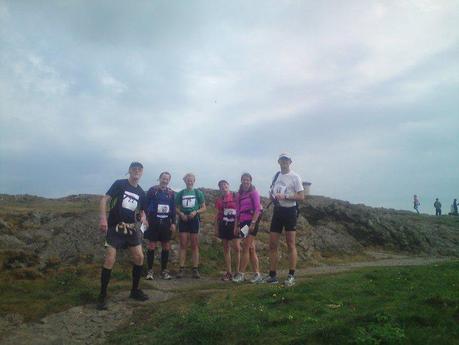 It was an early start to the day, getting up at 5.30 for a 2.30 hour drive to the start. That bit went well, somehow we put the wrong postcode into the satnav and ended up at checkpoint 1 trying to find signs of the start of a race. Then looking at the website for the proper start address we discovered that the race starts half an hour before we thought, at 9am. We managed to get there at 8.45, not much time to faff around before we were all sent off into the Severn Path.
We started the Malvern Hills Ultra from Holt Castle a few miles outside of Worcester. I did remark right as we started "well at least it's not raining". It did about 5 minutes later and did not stop for 3 hours. The first 20 miles or so were along the path of the river Severn, quite flat but on nice trail and through trees. I was in a group being led by Rob Westaway who I was trying to hang onto for the navigation.
I didn't have any maps or route description which were crucial in this race. I left them at Gemma's and did not pick up a spare set at the start. Claire Shelley managed to leave hers in the car in our haste to get to the start. The trail along the river became wide fields and we could see for a mile in front of us and this is where Rob sped off and pulled a lot of the others with him. SO then it was me and Claire in the middle of a field in a navigation race with no maps. What could go wrong?
We did get to the first "punch point" where we'd stamp our cards at an unmanned post and then soon after we got to the second checkpoint and were being caught up by others. Around 20 miles in there is a section through a nice town with lots of nice pubs. It had stopped raining, the sun had come out, I was a bit knackered and didn't really know where to go. I was so tempted to just pull out there, head to the pub, get a taxi back to the start and be done with it. I think Claire was thinking the same thing. We just sat down on a bench and considered our options and then Nicole Brown came running up towards us.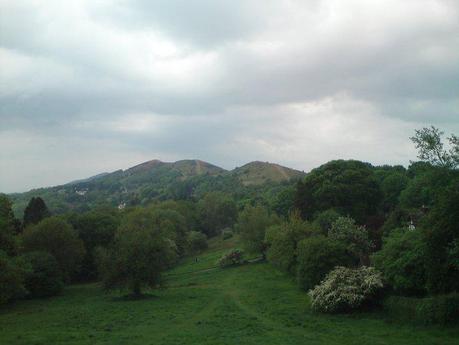 Ok so if we can hang on to Nx and Mark who she was running with we may have a chance. I still just could not be bothered though. At this point I asked Claire what the time was knowing that her Garmin would not be able to give her such information. She looked at it and said that she had not even switched it on yet. She was wearing it as a fashion bracelet.
The next few miles were on country lanes and in the distance we could see a beautiful chain of hills. That was where we were heading, along these roads to the start of the chain and then up and over the tops of them. I was looking forward to some hills. There was a long climb up to the first one and then back down into the third checkpoint at about 28 miles. I felt like I was holding people up at the back and really wanted to drop out. I figured 28 miles was a reasonable run for the day and I could try and do the same tomorrow. But it would be silly to do this and only complete the flat river bit wouldn't it? The next miles were over the tops of those hills and with the sun shining it would be a sin to miss it. I decided to carry on and drop out at the next checkpoint at about 35 miles.
There was nothing wrong with me. I was not injured, nothing hurt more than it usually would at this stage. It was a great course, well organised and I had good company but I just could not be arsed with it today, my head just was not in it. I texted Gemma to say that I wanted curry for dinner tonight and spent the next few hours just craving sitting down and eating curry. I was justifying in my head how it was the right thing to do to just pull out  and head home and eat at a reasonable time.
The ridge was amazing, by now there were a lot of walkers out but you could see for miles down on all the surrounding towns. I was really glad the rain stopped for this. I found a bit of energy to keep up with the rest of the guys as we tried to find the punch points we had to stop at. One was advertised as being on top of the highest peak which it wasn't, it must have been removed by someone. Maybe some similar group to the people who removed signs in the new forest last week. Mark surveyed all the possible hill-tops around but could not find it. There was a 10 minute penalty for every one missed and we spent about 10 minutes looking for it and not finding it. We could not find the next one either, again spending about 10 minutes stopping and going back and looking. Correction – Mark and Nicole went looking for it, I sat down and looked forward to the next checkpoint where I could drop out.
After a few hours in the hills we were in a forest and some lovely trails. There was one huge climb and some steep descents. The path held up very well despite the rain. Our group had got bigger as we plodded on through the trails.
The next checkpoint was at a pub, around 35 miles in and I just craved orange and lemonade which was strange. I still was OK but still really wanted to drop out. Another 18 miles sounded like a lot of work however we did not hang around enough for me to get comfortable and we were off again, Nicole and Claire dragging everyone else along.
I'm glad I didn't really have time to think. The gap to the next checkpoint was about 10 miles which at our pace was 2 hours. Another 2 hours of this and then maybe 2 more seemed like too much effort. Apart from the checkpoints there was no where I could really get a cab from, it was quite isolated for the whole thing. It was a great route that managed to avoid large sections of busy road.
By now the group were flagging a bit. Claire was still bouncing away with more energy than she had in the first 10 miles and Nx was making sure that anything flat or downhill was run by everyone. I stayed a safe distance behind and moped a bit.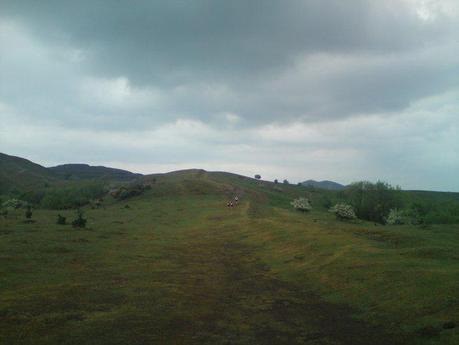 Still unsure what the source of my CBA was I stopped thinking about how I can bail from the race and instead thought about what is required to finish. It started to piss it down again and I still was not enjoying it but thought about the summer where I may well have days and even weeks like this. I've been told several times to treat the USA run "as a job" and in any job you are going to have shit days that just seem pointless. I'm going to have to struggle through those days for something that is much bigger overall. I just need to finish the job today and maybe tomorrow would be better. Also I realised that I needed the dry T-Shirt for finishing as I had not brought much of a change of clothes.

The rain got heavier. It was still warm and I was still sweating all over the place but determined to hang onto the gang. When the Garmins said we had about 7 miles to go I didn't believe it, it was more like 10. I was right, not that I can complain as the others were doing the map reading because of my own stupidity. If I had my own maps I may have slowed to a walk and navigated myself and finished hours later than we did.

The rain did not dampen anyones enthusiasm as we were near the end. I could not take any photos near the start or end of the race as the phone had to go in the bag to stop getting wet. The last checkpoint was 7.5 miles to the end, 3 parks. I can do this.

There were a couple more punch points that we struggled to get our soggy bits of paper out to stamp. A small section on a very steep road then some more woodlands and trails and into a field where we could see Holt Castle. Over a barbed wire fence and along the road and into the castle. I had not felt so relieved to get to a finish line for some time. The 6 of us crossed together in 11.11.

I'm not sure what the winning time was but Ryan and Kevin McMillan were joint second in just over 9 hours and Rob did an amazing 9.40 for 4th. Not many people under 10 hours suggests that this was a tough one.

Everyone found it tough without really knowing why and I took heart in other peoples misery. The weather was a bit miserable in places and there was some navigation involved (not nearly as much as an LDWA event, the trail signposts were all very obvious). It was hilly but not too much so and I had great company. I just put this down to "one of those days".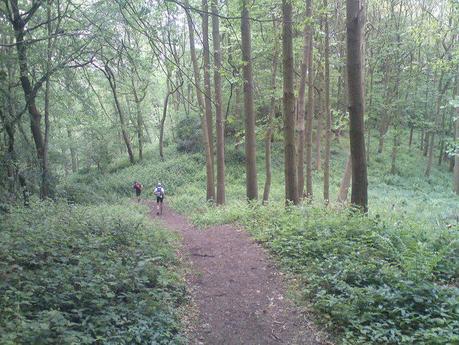 It's funny that I chatted to Ryan at the end who said that while he and Kevin were grumpily plodding on they wondered whether I have these times as I seem to just plod through everything with a smile on my face. Today I had 11 hours of that. Halfway through I was thinking "why the hell to I feel so shit after only 25 miles and what does this mean for the summer?" Now I am thinking "I can do 55 miles while feeling like a bag of shit". The latter way of thinking about it gives me more confidence about the summer.
The drive back was long (note next year probably stay locally that night) and I didn't get in till gone midnight and had re-heated curry on my own. Wasn't quite the end of the day I was expecting but it was OK. Thanks to Claire and Nicole for dragging me around, Thanks to Rob for doing all the driving. It was a great day really.
There was an 83 mile ultra being run at the same time as this, I could not imagine doing that though I am sure that if I had entered I'd have finished. Before the start of the race I spoke to Steve Partridge who was outlining his race next year. 214 miles in 5 days along the Severn Path promising to take you to "your own personal edge of darkness". This trail managed that in less than 20 miles, it would be rude not to try 200.