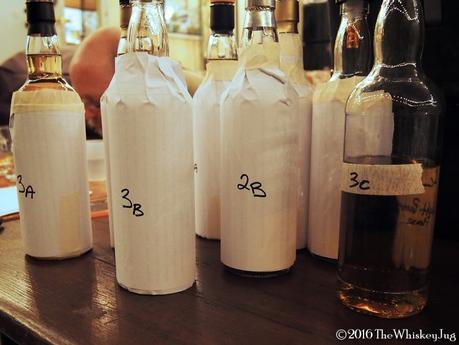 Another month another magnificent Malt Nuts meeting and this time we're examining the Mannochmore distillery and I'm darn glad we did. Until this night I don't think I've had a single Mannochmore andnow I've had seven! Talk about an immersive introduction to a distillery. Sitting down and going through this many whiskies from the same distillery in a single evening is like trial by fire for getting to know a distillery character.
As per usual it was done as a blind tasting and some tasty treats were supplied by our gracious host. Also like (most) Malt Nuts meetings the whisky was broken down into related flights. For this Mannochmore tasting the rounds were broken down as follows:
Cut Mannochmore
Cask Strength Mannochmore vs Cask Strength Glenlossie
Cask Strength Mannochmore
Yes you read that right, round 2 was Mannochmore vs Glenlossie, the reason being that they're in the same location – and I don't mean in the same city. In 1961 Mannochmore was built right next to Glenlossie (1876) by John Haig & Co and was built to increase distilling capacity at that location. Now on to the tasting!
Cut Mannochmore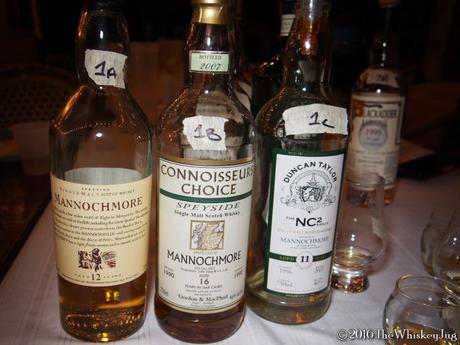 1A: Mannochmore Flora and Fauna 12 Years (OB): 46%
Nose: Dried apples, banana, vanilla, apricots, malty sweetness and spice. A nice complex fruity aroma.
Palate: Apricots, vanilla, orange candy, banana, spice and something I can only describe as "malt flavored taffy" and a touch of bubblegum.
Finish: Medium -> Apricots, apples vanilla, malt and banana.
Overall: B (83-86) I toyed with giving it a B+ because it has such a nice solid fruity malty character I'd happily sip on this anytime. It ended up being mine so it might get that when I circle back to it and do a formal review… we'll see.
1B: Connoisseur's Choice Mannochmore 16 years (90-06): 46% – "Oak Casks"
Nose: Butterscotch, banana, taffy, malt, brown sugar and a touch of spice.
Palate: Banana, butterscotch, malt, spice, toffee and a touch of bubblegum.
Finish: Medium -> Malt, banana, butterscotch, bubblegum.
Overall: B (83-86) Decent stuff. It would be on the lower side of the B spectrum, but still nice and tasty.
1C: NC2 Mannochmore 11 years (96-07): 46%
Nose: Malt, fruit, spice and spirit.
Palate: Fruit, malt, vanilla, spirit and graham.
Finish: Short -> Spirity, Vanilla, Spice and 7UP.
Overall: C (73-76) One of my fellow imbibers that evening asked if it had been "aged in a refill shoe box" because it was so spirity. It was hot, light and spirity. I know some folks liked it more than I did, so there's that…
Cask Strength Mannochmore vs Cask Strength Glenlossie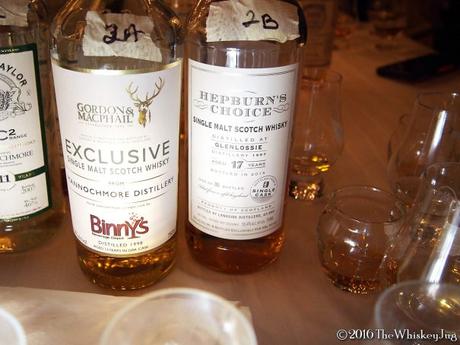 2A: Gordon & Macphail Mannochmore 13 years (98-11): 57.8% – "Oak Cask"
Nose: Apples, waxy vanilla, apricots, smoky and meaty aromas and a bit of dried fruit.
Palate: Dried apples, waxy vanilla, dried apricots, dried strawberry, malt and a bit of caramel and smoke.
Finish: Long -> Malt, dried fruit, waxy vanilla and a touch of smoky char.
Overall: B+ (87-89) That light bit of smoky char in with the fruit was very nice. Having an opposing character like that in there often helps highlight nuances and that was definitely the case here.
2B: Hepburn's Choice Glenlossie 17 years (97-15): 55.4%
Nose: Buttery toffee, dry candy sweetness, malt, buttered toast and dried fruit.
Palate: Buttered popcorn Jelly Bellys, spice, vanilla, malt and a some dried fruit.
Finish: Long -> Dried orchard fruit, spice, vanilla, malt and a bit of tropical fruit.
Overall: B+ (87-89) When this one came out I was thrown a bit for a loop. It was so different from what we'd tasted so far and I thought it was some kind of a weird cask finish. Our end of the table discussed this possibility a bit, but when the reveal happened and we saw it was a Glenlossie and not a Mannochmore it all made sense. Order was restored.
Cask Strength Mannochmore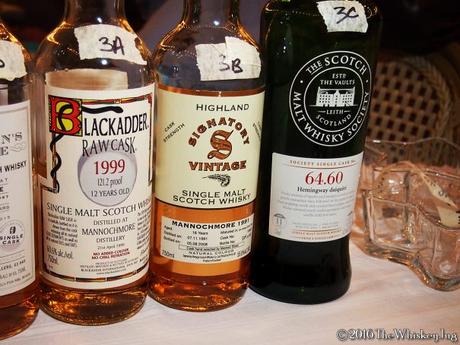 3A: Blackadder Mannochmore 12 years (99-11): 60.6% – "Oak Cask"
Nose: Malt, butterscotch, dried fruit, funky grain and a bit of sulfur and leather.
Palate: Caramel corn, raisiny dried fruit, spice, malt, sulfur and a bit of ambiguous sweetness.
Finish: Long & funky -> Grain, sulfur, caramel and dried fruit.
Overall: B+ (87-89) This one was so funky and weird, but balanced, that I loved it. We knew that somewhere in the tasting that night was a Mannochmore that had been aged in a South African sherry butt and our end of the table began theorizing it was this one due to the sulfur and sweetness… we were of course wrong.
3B: Signatory Vintage Mannochmore 16 years (91-08): 55.8% – South African Sherry Butt
Nose: Malt, spice, dark sweets, toasted grains and that's about it. The nose on this was nearly dead even with the addition of water, air and time it never opened up.
Palate: Dried orchard fruit, toffee, cider spice, punchy tropical fruit, cocoa and a bit nutty with a touch of char.
Finish: Medium -> Fruit, spice, toffee and malt.
Overall: B- (80-82) If the nose hadn't been so dead it'd get a B, but with almost nothing on the aroma it's hard for me to give it a higher grade than that. The palate and finish were pleasant though.
3C: SMWS – Hemingway Daiquiri – Mannochmore 11 years (03-14): 62.3% – 1st Fill ex-Bourbon Cask
Nose: Fruit, toffee, bubblegum, waxy banana taffy, malt, spice and a bit of dark sweets.
Palate: Fruit, malt, bubblegum, taffy, coconut and a bit of spice and wood.
Finish: Medium -> Sugar, butterscotch, buttered popcorn and vanilla taffy.
Overall: B (83-86) It was really interesting to try this right after 3B because the nose here was super expressive and the palate was comparatively dull. It was still expressive and tasty, but sat in a noticeable contrast to the dynamic aroma.
As mentioned above, the night started with the Alexander Murray rep stopping by and letting us try two of their new whiskies. One was a 13 year old Highland Park that was a big ball of bubblegum, bananas and malt and didn't strike a chord with me (C/C+). I know some of the guys enjoyed it, but to be totally honest I'd MUCH rather go pickup the current Highland Park 12.
We also tried the Alexander Murray 15-Year-Old Dalmore which was actually not too bad. It was perfectly sippable and straddled that B- / B line for me. It was a nice way to wake up the taste buds and start the night. The rep left before I could get photos of the bottles so no separate section this time around.
At the end of the evening we had a two bottle preview of our upcomming tasting which will be revolving around old blends. I didn't get photos of the blends, and it was a non-Mannochmore related preview anyways, so I don't have a section for this either, but the first one was about what you'd except for an older blend. The Angus Dundee was filled with the sweet grains, fruit, dark fruit and spicy malt (B-).
The second blend however threw our end of a table for a loop and here's why. It just so happened that our end of the table had a bunch of dusty hunters and dusty drinkers, myself included, and the second we tried "Jon, Mark, Robbo: The Smoky Peaty One" (Compassbox precursor) we all thought it was something from the early 80s through the 70s. It had a very distinct musty character to it that dusty drinkers call Old Bottle Effect.
This OBE quality comes from it being in the bottle for several decades and when we found out it was actually from a, fairly, recent blend we were all blown away and wild, fun, theories about how they were able to bottle OBE began flowing. It was quite a lively discussion and a really interesting experience. OBE is something we'll definitely be talking a lot about very soon.
Anyways, that's it for the Malt Nuts Mannochmore blind tasting. Hope you enjoyed reading along and until next time… cheers!