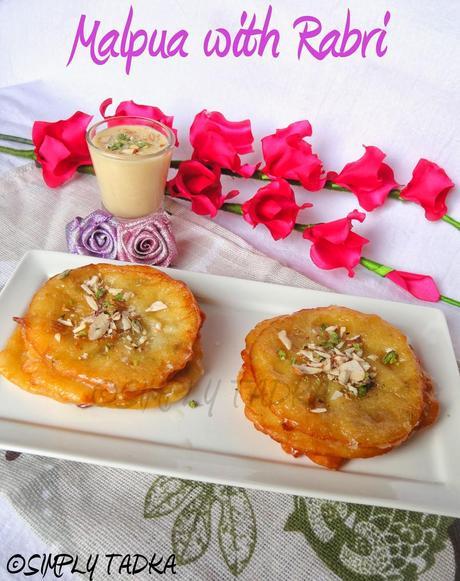 Malpua is one of the popular Indian Sweet which prepared on the occasion of Holi, Diwali and on more auspicious occasions. Malpua is a fried pancake which soaked in sugar syrup and serve with rabri and nuts as a dessert. Sometimes we add crushed coconut or banana puree in this batter for more flavorful malpuas.
Malpua is a famous dish during the Muslim holy month of Ramadan. Muslim families across India, as well as Pakistan prepare malpuas for iftar (meal to break the fast). This malpua includes maida, rawa, and khoya/ mawa (milk solids), and is deep fried to take the shape of a pancake. In some recipes, malpuas are dipped in sugar syrup before serving.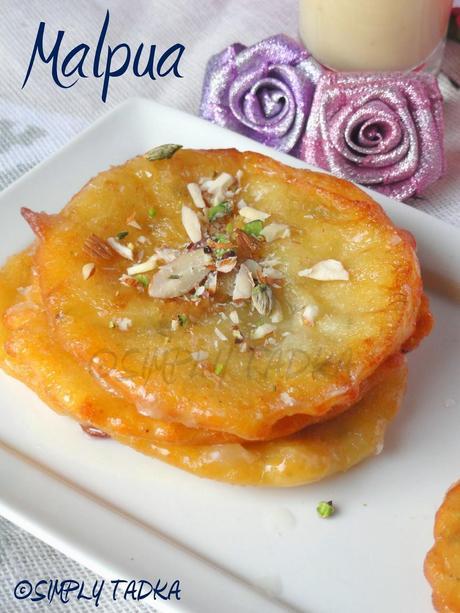 Last month I started new group "Sweet Fantasy Club" with my co-bloggers and so we decided to choose Malpua as an Indian Sweets for November series. I wanna thanks to all my lovely co-bloggers who support me a lot for encouraging towards this group. For more detail about this group checkout our page "
http://www.simplytadka.com/p/sweet-fant.html"
Preparation Time: 1 Hour
Cooking Time: 20 Minutes
Servings: 4
Category: Indian Mithai
Ingredients:
For Malpua
1/2 Cup Flour/ Maida
1/4 Cup Semolina
1 Cup Whole Milk, warm
3 Tbsp. Condense Milk
1 Tsp. Cardamom Powder
1 Tsp. Fennel Seeds
Few Raisins
Oil for Frying
For Sugar Syrup
1 Cup Sugar
1 Cup Water
Few Saffron Strands
For Garnishing
Almonds, slivered
Pistachios, slivered
Rabri, chilled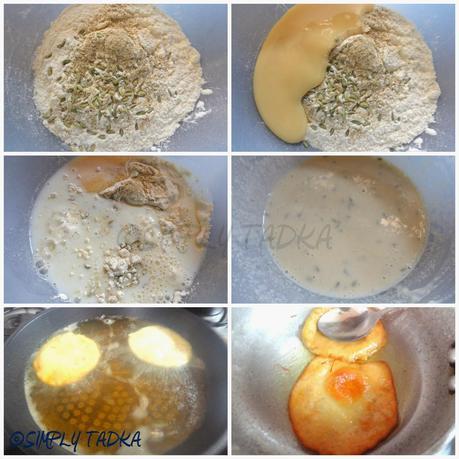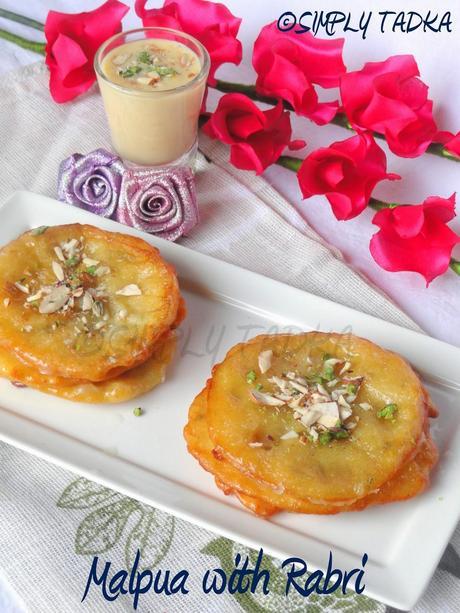 Instructions:
Sieve the semolina and flour together and combine with raisins, cardamom, fennel and condense milk. Add warm water and mix it without any lumps.
Cove and keep aside to rest for 2-3 hours, if you are in rush try to keep for atleast 30-40 minutes.
Heat the water in separate pan and when water starts boiling, add sugar and stir continuously until to dissolve completely. Try to prepare one string consistency syrup.
Heat the oil in flat surface pan or wok. 
When oil is hot enough, pour the ladleful batter in kadai to form of pancake in one motion.
Cook this pancake on slow flame from both sides until to cook and golden.
Place these malpuas on a kitchen towel to drain excess oil.
Keep this malpua in sugar syrup for atleast 5 minutes.
Remove it and garnish with chopped nuts and serve hot with chilled rabri.
Notes:
You can use grated and unsweetened khoya instead of condense milk. If you used unsweetened khoya, add 2 tbsp. sugar also.
Try to keep batter for 3-4 hours to prepare smooth and soft malpuas.
For flavouring, you can add mashed bananas also in batter.
Tags
: how to make malpua recipe, malpua recipe, indian mithai, indian dessert recipes, easy and simple way to cook malpuas, malpua with rabri recipe, step by step malpua recipe, rajasthani malpua recipes.