Vettel secures second victory of the season in Kuala Lumpur (updated)
Similar to Melbourne it was not an entirely dominating Sebastian Vettel who took the chequered flag after 56 laps. Vettel benefited from Nick Heidfeld, who with a phenomenal start overtook four cars and got in front of Lewis Hamilton. In the following laps the Briton was unable to overtake Heidfeld, which allowed Vettel to open up a crucial gap of about ten seconds to Hamilton and Button in third and fourth place. With this advantage under his belt, the German had no difficulties to drive the win  home.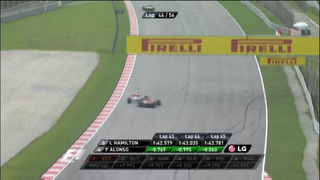 Accident between Fernando Alonso and Lewis Hamilton
Jenson Button was able to pass Lewis Hamilton in the third pit stop phase to finish second. Hamilton afterwards had to fight off Fernando Alonso, with the Spaniard on fresher tyres. Also due to the fact that the DRS on the Ferrari did not work, Alonso tried a very aggressive overtaking manoeuvre where he damaged his front wing. Both drivers had to stop once more which left them with only sixth (Alonso) and seventh place overall.
Lotus Renault driver Nick Heidfeld benefited from this accident, he secured the second podium in the second race of the season for the French team.
Due to a technical problem on his car, Mark Webber had no KERS available throughout the whole race. Already at the start the Australian lost seven positions, but after an impressive comeback he still finished fourth.
Felipe Massa finished fifth. In the last laps the Brazilian was able to fight off the fast-approaching Fernando Alonso on his fresh tyres and stayed three tens of a second clear of the Spaniard going over the finish line.
Kamui Kobayashi and Michael Schumacher, who had repeated battles on the race track, finished eighth and ninth, both securing the first points of the season for their teams.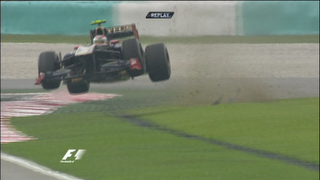 Vitaly Petrov's accident on lap 53
Scot Paul di Resta was the stronger of the two Force India drivers. He fetched one point again, but lost one more in the penultimate lap, when he was overtaken by Michael Schumacher.
Four laps before the chequered flag came out Vitaly Petrov lost eighth place in a rather strange accident. The Russian got off the track and his car lifted off on a bump, leaving him with a broken steering post.
Update
Lewis Hamilton and Fernando Alonso were given 20 second penalties. Lewis Hamilton got his penalty for changing the race line repeatedly when trying to prevent Fernando Alonso from overtaking. The Spaniard got his one for crashing into the back of Hamilton's car when trying to overtake him.
While for Fernando Alonso the time penalty is of no consequences, Lewis Hamilton loses one position to Kamui Kobayashi.
Kuala Lumpur - final results

  Pos. Driver Nat. Team Time/Gap Laps Ps
  1 Sebastian Vettel German Red Bull 1:37:39.832 56 3
  2 Jenson Button British McLaren +3.261 56 3
  3 Nick Heidfeld German Lotus Renault +25.075 56 3
  4 Mark Webber Australian Red Bull +26.384 56 4
  5 Felipe Massa Brazilian Ferrari +36.985 56 3
  6 Fernando Alonso Spanish Ferrari +57.248* 56 4
  7 Kamui Kobayashi Japanese Sauber +1:06.439 56 2
  8 Lewis Hamilton British McLaren +1:09.957* 56 4
  9 Michael Schumacher German Mercedes +1:24.896 56 3
  10 Paul di Resta Scottish Force India +1:31.563 56 3
  11 Adrian Sutil German Force India +1:41.379 56 3
  12 Nico Rosberg German Mercedes +1L 55 3
  13 Sebastien Buemi Swiss Toro Rosso +1L 55 3
  14 Jaime Alguersuari Spanish Toro Rosso +1L 55 2
  15 Heikki Kovalainen Finnish Team Lotus +1L 55 2
  16 Timo Glock German Virgin +2L 54 2
  17 Vitaly Petrov Russian Lotus Renault +4L 52 3
  RET Vitantonio Liuzzi Italian Hispania   46 4
  RET Jerome D'Ambrosio Belgian Virgin   42 2
  RET Jarno Trulli Indian Team Lotus   31 2
  RET Sergio Perez Mexican Sauber   23 1
  RET Rubens Barrichello Brazilian Williams   22 3
  RET Narian Karthikeyan Indian Hispania   14 0
  RET Pastor Maldonado Venezuelan Williams   8 1
* including 20 second time penalty
RET...retired