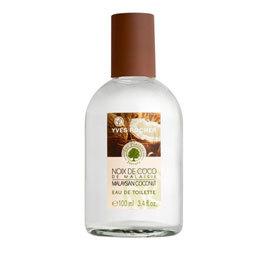 Lately I've been congratulated for my perfume: 'You smell delicious!' I've been said. Wow. I gotta thank Yves Rocher then, for their Malaysian Coconut Eau de Toilette. 

I have to recognize I almost never appreciate alcoholic perfumes, because they result in annoying strong scents, they simply bother me. But sometimes, like in this case, after the noticeable 3-minutes-long alcoholic cloud, you'll be covered by a delicious sweet scent. It is clearly a chemical scent, nothing too similar to real coconut, but it pleasantly works.  





So what is this Eau de Toilette's scent like? To me it smells more of a sweet vanilla-coconut icecream rather than a voluptuous exotic sensual kinda perfume, but it's nice. One of those easy scents, nothing too complicated or sophisticated, just a simple sugary slightly sensual perfume. 

Since it is alcoholic, I don't spray it directly on my skin, I do it on my clothes, I just prefer this way of applying it. 

I've had the possibility to try a good range of YR's fragrances and they have almost never disappointed me, they are simply well done :) 

Long ago I talked about my that time's favorite perfume, which is still in my top list!