Malala Yousafza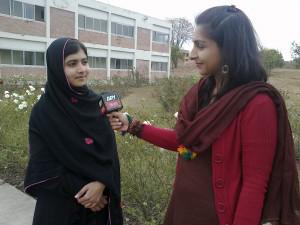 i, an iconic figure for girl's education in Pakistan has survived a fatal Taliban attack. She was returning home from school along with her other fellows. Unknown gunmen opened fire on her vehicle. Malala and her two other fellows suffered critical injuries as result of gun shots.
Injured were shifted to Saidu Sharif Hospital. According to hospital sources she received a bullet in her head. She was operated immediately and is expected to be out of danger. She is now being shifted to CMH Peshawar.
Malala rose to prominence for her brave and exceptional services for peace in Swat. Her love for education was exemplary as she continued her studies in very hostile conditions.
Malala Yousafzai as peace award nominee
Malala Yousafzai was awarded 1st National Peace Award for service for the noble cause.  She was also nominated for Children's Peace Prize by Kids Rights Foundation. Foundation is advocacy group for children rights. She was first ever Pakistani to receive this nomination.
It is important to mote that Malala Yousafzai was on hit list of Taliban. She was continuously receiving life threats. Acting upon threats KPK government provided her with a special vehicle and unarmed security guard. Taliban has accused her of being pro west and announced that they will attack her again if she survives.
Attack on Malala Yousafzai is against all religious and local norms of the area. Taliban mostly belong to Pashtun tribe which give highest respect to females. Attack on females is unthinkable in Pashtun society.