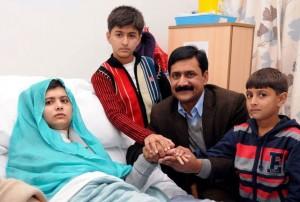 Malala Yousafzai with her family at Queen Elizabeth Hospital in Birmingham.
The sister of the alleged mastermind of Malala Yousafzai attack has apologized to the iconic children activist in an interview with CNN.
Rehana Haleem said her brother Attaullah Khan had brought shame to their family.
"Please convey a message to Malala, that I apologize for what my brother did to her," Rehana said. "He has brought shame on our family. We have lost everything after what he did. What he did was intolerable."
15-year-old Malala Yousafzai was shot in head by two breaded Taliban gunmen in Swat on October 9 when she was on her way from school. Her two friends Kianat Riaz and Shazia Ramzan were also injured in the attack.
Tehreek-e-Taliban Pakistan (TTP) had claimed the responsibility of attack saying Malala was anti-Taliban and secular.
Rehana regarded Malala as his sister and hoped for her speedy recovery.
"Malala is just like my sister. I'd like to express my concern for Malala on behalf of my whole family. I hope she recovers soon and returns to a happy and normal life as soon as possible," Rehana said.
"I hope Malala doesn't consider me or my family as enemies. I don't consider Attaullah my brother anymore," she added.
Malala Yousafzai, who rose to fame after writing a dairy for BBC about the life in Swat Valley under Taliban, is currently undergoing treatment at Queen Elizabeth Hospital in Birmingham.
Though she is stable and making good progress but medical staff the 15-year-old has a long road ahead to a full recovery. She is likely to undergo reconstructive surgery to her skull once she gains enough strength.
Attaullah's house was reportedly searched by the security forces on the next day of attack and from where they reportedly seized documents and pictures.
Rehana said her brother was undoubtedly involved in the attack.
"If he was innocent, he would have come back and claimed he was innocent and come to the aid of his mother and our family. His behavior is that of a guilty man. How could he abandon us?," she said.
Attaullah had been attested by the security agencies back in 2009 as a suspected Taliban member, but was later released due to lack of sufficient evidences.