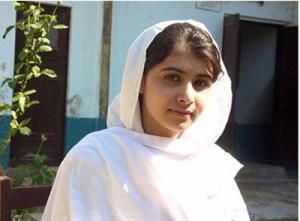 Next four days are crucial for Malala Yousafzai's life
The sources of Combined Military Hospital (CMH) Peshawar have said that the next four days are crucial for the life of the National Peace Award winner Malala Yousafzai, who was injured in a Taliban attack in Swat on Tuesday.
Bullet still inside Malala Yousafzai's body
According to doctors, Malala Yousafzai was targeted from a closer proximity and the bullet is still in her body, which caused severe damage to her brain and scalp bone, and it won't be operated but will be treated through medications.
"We have thoroughly examined her, she is in critical condition. The bullet traveled from her head and then lodged in the back shoulder, near the neck," a doctor in the CMH told AFP, requesting anonymity as he was not authorized to talk to media.
"Next three to four days are important for her life. She is in the intensive care unit and semi-conscious, although not on the ventilator," he said.
The 14-year-old Malala Yousafzai earned the global eminence for her for her work to promote the schooling of girls in her hometown Swat during the annexation of Taliban over the Valley.
She was on her way from her school in Mingroa when breaded men stopped her bus and opened fire on her and two other girls. Trio girls were immanently rushed to the District Headquarter Hospital in Saidu
Hours later, Tehreek-e-Taliban Pakistan (TTP) claimed the responsibility of attack saying the attack was carried out because Malala Yousafzai was anti-Taliban and secular.
"We carried out this attack," TTP spokesman Ehsanullah Ehsan told AFP, speaking by telephone from an undisclosed location. "Anybody who speaks against us will be attacked in the same way."
The hospital sources said that Malala Yousafzai was hit by a bullet in her head. The doctors operated her immediately after which she sustained consciousness. Later she was transferred to the CMH hospital of Peshawar via helicopter.
Malala Yousafzai was just 11 when she wrote a diary about the treacherous situation of Swat during the military operation. In the diary, which she kept for the BBC's Urdu service under a pen name, she unveiled the atrocities committed by the Taliban. Her identity surfaced just after the Taliban were hound out of the Valley.
Thanks to her brave and exceptional services for peace in Swat Malala Yousafzai was nominated for an international children's peace award.  On 19 December 2011, she was presented the first National Peace Award by the Pakistani government.