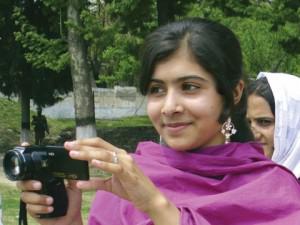 Malala Yousafzai who was critically iniured in Taliban attack is being air lifted to CMH Rawalpindi. She received a bullet in her head which lodged on her shoulders. She was operated immediately and doctor took out the bullet. However her condition continued to be critical. She has not gained consciousness after the operation. Two other girls were also injured in the incident.
Responding to the situation doctors has decided to shift Malala Yousufzai to AFIC Rawalpindi. All arrangements are in place in this regard. Her doctors will accompany her during transfer.
"Her condition is not yet out of danger despite improvement. She is being shifted to Rawalpindi," Governor KPK said.
A team of doctors from Pakistan, United Kingdom and United States are continuously monitoring her condition. Decision to shift her to Rawalpindi was also taken jointly.
Earlier it was reported that Malala Yousufzai is being sent abroad for medical care. Later on Interior Minister Rehman Malik told reporters that her condition is improving and decision to send her abroad will be taken after review.
Taliban claimed responsibility for this cowardly act and announced a renewed attack if she survives. Attack on Malala has been widely condemned internationally.
Malala Yousafzai is real soft image of Pakistan. Her love for education was unmatched and she received global recognition due to this. She highlighted Taliban mayhem in Swat. Taliban and Malala had different ideologies. Taliban used to destroy girls schools and imposed a ban on girl's education. On the other hand all Malala wanted to get her education back. She used all available means to demand her schools back. Taliban cannot forgive such a big crime of getting educated because they all are illiterate.
Due to her crime of getting educated, Malala was on hit list of Taliban. Finally they nearly claimed life of a young innocent girl. Despite their brutal use of force Taliban will continue to be hated by most people of Pakistan. On the other hand, Malala Yousafzai will continue to resonate the lives of thousands young girls.