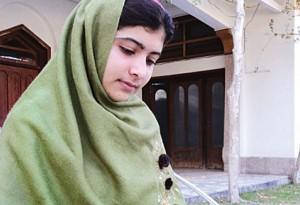 Malala Yousafzai was injured along with two friends in Taliban attack
Malala Yousafzai, honored with International Children's Peace Prize by Advocacy Group Kids Rights Foundation in 2011, was injured along with two other girls when Taliban gunmen shot her while she was on her way home from school. The Pakistani Taliban has provided its justification for the shooting of a 14-year-old schoolgirl who made a name for herself by challenging the Islamist group's crackdown on girls' education and for being "pro-West by saying that " Malala Yousafzai was playing a vital role in bucking up the emotions" of Pakistan's military and government "and was inviting Muslims to hate Mujahideen."
The statement of CIA backed TTP says that it is "not just allowed … but obligatory in Islam" to kill such a person involved "in leading a campaign against Shariah and (who) tries to involve whole community in such campaign, and that personality becomes a symbol of anti-Shariah campaign."
Pakistan's Prime Minister and President, and the U.S. state department, have all apparently said the attack on Malala Yousafzai was wrong. Although the US andPakistanare allies in the war against terrorism; US is constantly deceivingPakistan. While the U.S.media and CIA have frequently reported on Pakistani ties to Jihadi elements launching attacks inAfghanistan, it has never been mentioned that India supports insurgent forces attacking Pakistanand they are up to their necks in supporting the Taliban against Pakistan both inAfghanistanandPakistan. In fact TTP is the biggest asset of NATO, CIA and RAW.
NATO, CIA and RAW have given safe haven to terrorists of TTP inside Afghanistanto wage a war against Pakistan and to distort the soft image of Islam. Pakistan is being attacked by those CIA backed insurgents who gets safe havens, base areas, training camps, weapons, explosives and dollars under the U.S occupied Afghanistan. Taliban commander known as Fazlullah has been orchestrating raids on Pakistani security forces, damaging school buildings, and committing other crimes from Afghanistan.
Pakistan Army has set a unique precedent by defeating CIA and RAW backed terrorists (TTP) in a short span of time both in Malakand and Swat valley. Pakistan Security Forces has repeatedly called on US and Afghanistan to hunt down Fazlullah, whose fighters cross the border in their hundreds, set up ambushes and attack army checkpoints, demolish schools and hospitals in addition to committing crimes like Malala Yousafzai incident and destroying Pakistan's strategically sensitive assets so that Pakistan could be turned into a compliant state. But U.S and Afghanistan have not taken notice of those calls. The Pakistan Army, who is still in Swat, should immediately start reconstruction work on destroyed schools and other infrastructure and deal these anti-state elements like TTP with iron hands.