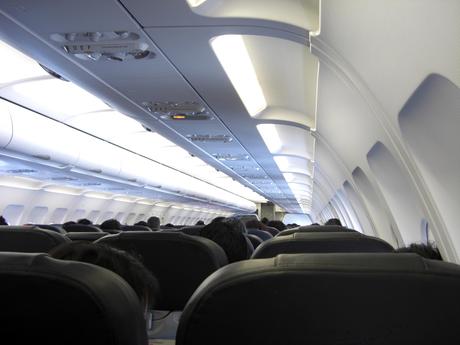 With the state of the economy recovering at a snails pace, the airline industry has been seen to give the biggest beating to consumers of all.  Between extra fees, less routes, and generally increased prices the cost of doing business has passed along to us. The chances are this has affected your holiday budget and you might be considering changing your plans, but with all of the fee increases also comes an increasing number of airline deals available that may want you to think twice before staying at home on your next vacation.
When looking for cheap flights there are a few things that you need to keep in mind. Although these tips may appear to be common sense for some, they still are new to many future travelers and should be kept in mind at all times when booking. (Photo "Rear View of Passengers in an Airplane" by yenhoon)
Book as Early as Possible
If you are sure about your plans, try to book flights as early as you can. Ticket prices grow almost exponentially the closer you get to departure, with the steepest rises coming in the immediate month or two leading up to takeoff. In most cases, booking well in advance of this will save you money even though prices tend to fluctuate daily.
From a historical viewpoint, the best prices appear within three to six months in advance of your desired flight. Looking at similar flights closer to departure if you are 6 months out will give you a good idea of the demand for the tickets, keeping in mind high and low seasons, of course.  If price is going up the closer you are to departure, it may be time to book.  If prices are going down, you may save some money by waiting.
Look For Last Minute Deals
Some of the very best deals are offered at the last minute, but only for certain flights. This is because it makes more sense for an airline to get something for the seat rather than leaving it empty, even if other passengers on the same flight have paid far more booking months in advance.
Last minute deals can be a gamble and it's unlikely you're going to get exactly what you're looking for, so you need to keep an open mind and be as flexible as possible. The very best offers come and go quickly, so keep your eyes open and check many sites regularly, as most offer varying specials. Or if you're feeling really adventurous, you can always just head to the airport and ask for any cheap tickets. Who knows where you might end up? However, with the days of overbooking and milking profits as much as possible, more and more flights are becoming overbooked so this technique may be phased out quickly in the near future.
Check Your Departure Points
Often your choice of airport can affect the cost of the ticket. This is especially true of cities or areas with more than one airport. Less busy airports will often have better deals on flights due to cheaper overhead costs from having smaller staff, cheaper utility bills, and less operating costs in general.
Unfortunately, this is not always the case as sometimes the larger, busier airports offer cheaper flights due to servicing many destinations with greater flexibility of getting you where you need to go. It is always worth shopping around for your best and cheapest option on both the departing and arriving end. It might involve a slightly longer journey to the airport or longer drive to your destination, but by checking your departure and arrival points you could save yourself a significant amount. 
Don't Travel During the Holidays
It sounds obvious, but you would be amazed how much of a difference traveling during a holiday can make. If you can be more flexible about when you travel then you are more likely to get a better deal. It's basic supply and demand economics: when more people want to go, airlines can charge them a premium for the privilege. Fixed on traveling over a certain holiday? Branch out by a few days in either direction and watch the price drop like a rock.
Want to learn more advanced airline booking strategies? Check out our post about using hub cities to your advantage to save serious cash and get an extra day in a new city as an added benefit!