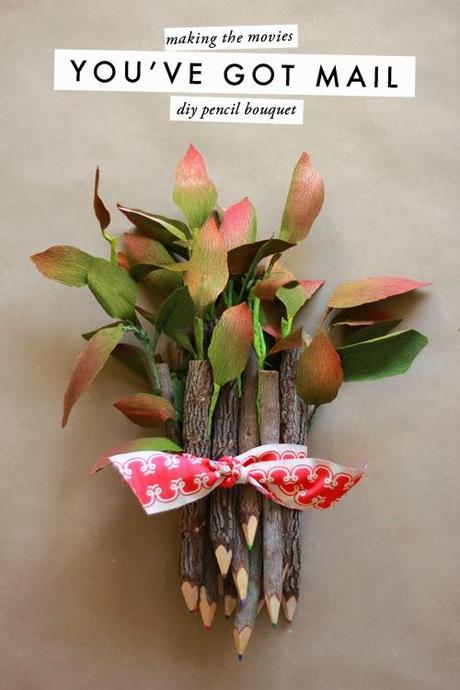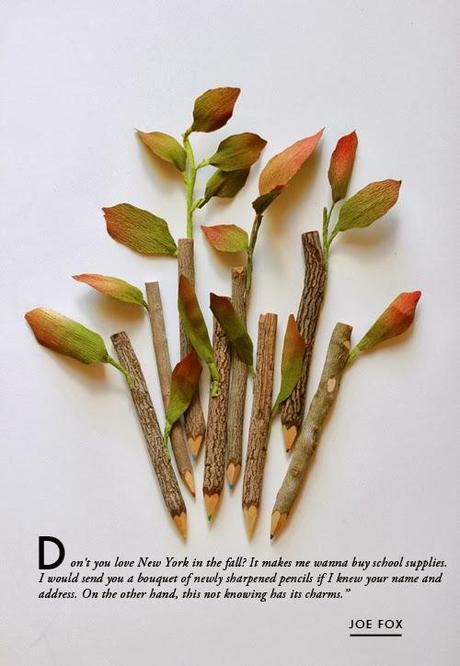 I've been waiting for fall since spring. Not because I'm anxious to get this winter party started (you know my thoughts on that), but because I've been wanting to make a "bouquet of newly sharpened pencils" as Joe Fox so eloquently described. You know what I'm talking about, ladies. Cross that. Men too. One of Paul's favorite movie is You've Got Mail. Nora Ephron at her best. It's so good. Of course, one of the best parts of the movie is the change of seasons and how they portray NYC. Fall is crisp and lovely and the image of pencils in a bouquet form is forever engraved into my head. Of course I had to translate that into a real bouquet of sharpened pencils.
I had several ways I could take it. Just some number 2 pencils wrapped in bow...attaching some flowers to the end (too local beauty salon, you know?) but these branch pencils were just too cute to pass up so I turned them into fall leaves. And to remind you of the movie, but not necessarily the right scene (just the cutest one--and didn't we all want that dress?!)...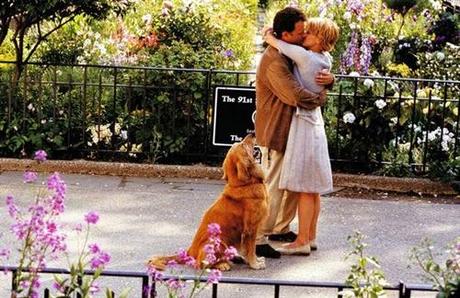 Simply beautiful.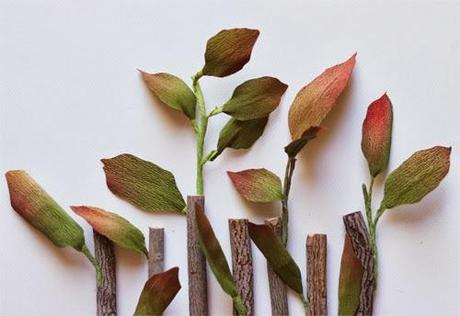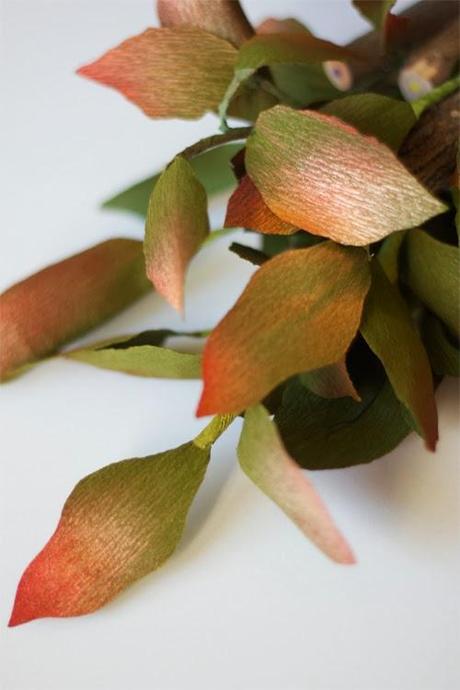 Supplies: branch colored pencils (buys some like mine here), double-sided crepe paper in greens, single sided crepe paper in green, wire, wire cutters, scissors, gold spray paint, red spray paint, orange spray paint, glue gun, some time on your hands
Step 1: I know it's lame (and clever, come on!) of me, but I gotta refer you to my Skillshare paper flower class on how to make the greenery. Yes, it's a ploy. Kind of, Ok, it's laziness because I didn't want to make new greenery so I reused the stuff from my class. But please! It's only $20 AND you even get 15% off if you use the code LARS.
Step 2: Forgive me for step 1, unless you're super smart and already enrolled in the class.
Step 3: With your greenery, now's the time to turn those leaves into fall leaves! Yes, you can do this before you assemble all the greenery together OR you can do as I did and save it for the end. I bought some fast drying floral spray paints so it wasn't messy. I started by spraying the tips of the leaves with a spot of gold.
Step 4: After the gold dried, I added red. I overlapped the colors a bit but didn't want to cover all the gold up too.
Step 5: Next I added some orange. Same technique as step 4.
Step 6: After the leaves are dried, I used the grain of the branches to insert the wire of the leaves. I filled each groove with hot glue and held it for a bit to secure.
Donzo. I can imagine these as a great teacher gift or even putting in a vase for a mantle. Right now they're sitting on my new mid-century modern piece that we decided to use as a shoe holder. You guys on Instagram sure had a lot of opinions about it. I asked what color I should paint it and I got some pretty infuriated responses. Yikes! Wild preservationists on the loose!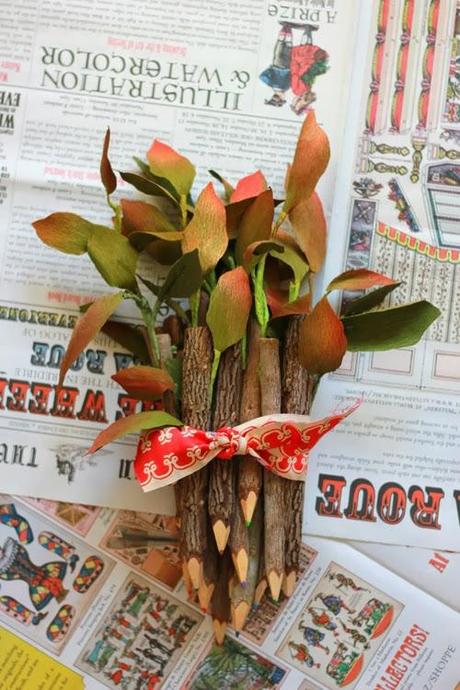 With that, I'm off to San Francisco for a short jaunt. I'll be attending the Brit and Co. makers conference. Anyone else going? 
See more from this series where I make objects inspired by the movies here. 
You've Got Mail image