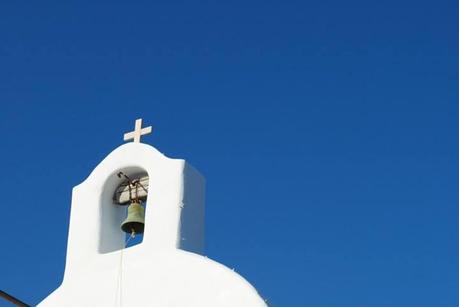 The picturesque island of Santorini is often the highlight of many traveler's visit to Greece.  It is a popular stop to fly into from the mainland, reach via ferry from numerous nearby islands, and even a port of call for many cruise ships every day.  But with its popularity comes the hotel pricing to match, and Santorini can be one of the most expensive stops of your entire Greek vacation because of it.
It is due to this reason that we only stayed one night in this popular destination, and just about every moment of our 30 hours on the island was packed with something to do.
So if you find yourself with only one night on Santorini, our customized itinerary may be for you.
Arrive at Your Hotel - 12 Noon
Board your ferry to Santorini in the morning and take the public bus or, if the time table is inconvenient as they most often are, an overpriced cab to your hotel in Firostefani for check-in at noon. 
Located just outside the main town of Fira, Firostefani offers attractive price breaks on hotel rooms if you are not seeking the glitz and glamor of the infinity pool and Caldera views (although, many still have those, too).  For the best cost savings, spend a little extra for a hotel that offers free pick-up and drop-off at the port to avoid unnecessary taxi fares if the bus schedule is not suiting to your arrival time.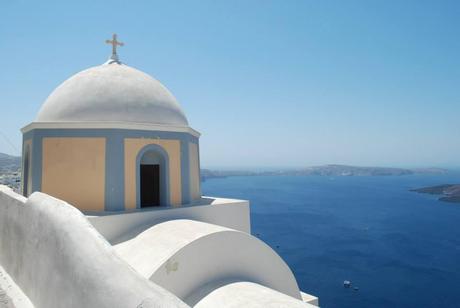 After a short break to recover from the heat, take the nearby walking street along the cliff to soak in the Caldera views on your way to the main town of Fira for lunch.  Be sure to have a full charge on your camera batteries for this one as the iconic scenes of Santorini begin showing themselves on your way.
After you have your fill in Fira, head back to your hotel for a short break before the next adventure. You and your camera batteries need to be fully charged for what is to come.
Evening Hike to Oia for the Sunset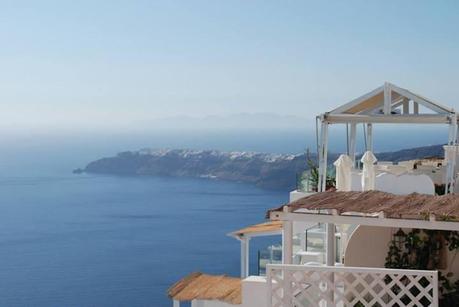 The sunsets of Santorini are world famous, and is perhaps the number one sight all visitors come to see after the architecture.  But Fira is not the place to take in this wonderful show of nature.
Instead, the village of Oia on the Northern end of Santorini is the go-to spot for this treat.  As the village is at the tip of the island, you'll have an unobstructed view of the sunset and numerous selections of Santorini's finest architecture illuminated for that perfect shot.
While you can take a bus to Oia in about 20 minutes from Fira, our recommended route is the 3-4 hour hike between the two.
Begin your hike no later than 5pm from Firostefani, a village about 15 minutes outside of Fira (closer to Oia).  The first half of the stroll is an easy walk through a few villages, allowing for tons of photos of the famous Santorini hotels and churches.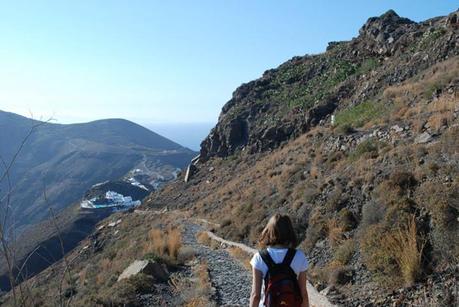 The second half of the hike is open terrain through the hills of Santorini before reaching Oia.  While you do not need to be a skilled hiker for this particular route, be sure to wear good shoes and prepare for a few downhills on some rather loose gravel.  Of course, there are still many stops for photos along the way; a perfect excuse for those who are a little tired.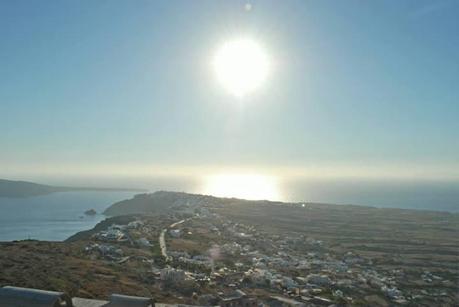 After about 2 1/2 hours, if in good walking condition, you should reach the entrance to Oia, a beautiful sight as the sun begins sinking into the horizon.  In the height of summer (early August), you'll still have another 50 minutes before the proper sunset, so stroll through Oia at a relatively brisk pace before reaching the end of the island in three hours.
Spend a few minutes scoping out your spot, grab your place before other travelers jump in, and wait for the beauty to unfold.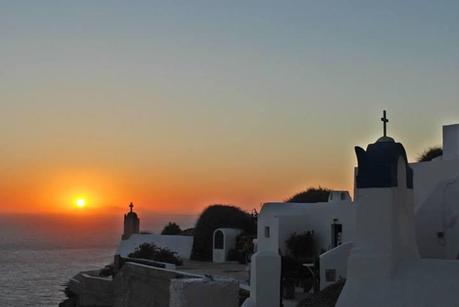 After the sunset is over, Oia becomes somewhat of a madhouse.  Your two options are to either wait where you are for 10-20 minutes so the crowds can dissolve or endure the lines until you make it to the center of town where the crowds begin to dissipate. 
You may be thinking that heading to the center of Oia, eating dinner, and relaxing for a while to let the crowds go away is a good idea.  But one glance after reaching the central square and you may realize that everyone else had the same idea!  You may find, depending on the night, that you can make it onto the very first bus and on your way back to Fira without hesitation. 
The crowds are sure to only get worse later on.
For those looking to take this hike, be sure to bring plenty of water and a hat if the sun is particularly striking on the day of your hike.  The weather changes in Santorini quite frequently and one day may have pleasant winds and the next is brutally hot.  It is really the luck of the draw, so it is best to be prepared for all scenarios.
Note:  We made our hike in exactly 3 hours from Firostefani.  If starting in central Fira please add another 20 minutes to this time.  We estimate that we spent about 30 minutes taking photos during our hike and were not actually walking at this time.  In either case, allow yourself ample time to make it to the sunset.  You don't want to miss it.
Morning Beach Stroll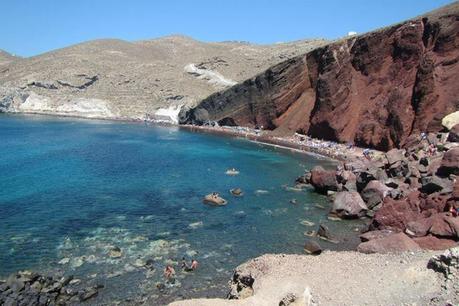 After checking out of your hotel the following morning, you will still have several hours before your next ferry leaves the island.
Head down to the central bus station in Fira and check out the timetables for the numerous beaches including Perissa, Kamari, and Red Beach.  These buses leave at irregular intervals of every 20-60+ minutes with the more frequent options being in the morning and evening and lesser cycles from 11am to 4pm.
If your goal is to visit the black sand beach, Perissa, you may find that every other tourist there has the same idea.  Be strong in trying to get on the bus, or else you may be muscled out by a last minute arrival who chases the bus down as it arrives.  Or you can avoid this altogether and take smaller, often less crowded bus to Red Beach, a highly recommended alternative.
Red Beach is located near the village of Akrotiri on the Southern side of Santorini, easily accessible if you have your own transportation.  The bus drops you off at the end of the road along a rather sad looking beach (just past the archaeological site).  To get to Red Beach, turn right along this beach and walk until the restaurants at the end.  Once there you'll see signs pointing you to the path.
As a quick word of warning, you must go up and over a rocky path to get to Red Beach.  This may not be the best path for younger children and people who cannot walk as well.  While there are hand rails, it can be steep for a few minutes.  If you still wish to visit Red Beach and are worried about the walk, boats are available along the first beach that offer lifts but may have very infrequent return trips.
For those who do make this hike, one of the most beautiful beaches on the island will be your reward. 
When you're done taking it all in, head back to Fira for a quick gyro, souvenir shopping, and catching your transportation to your next great destination!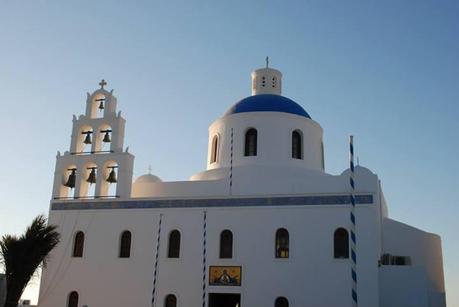 You'll definitely want to come back to this one for more.