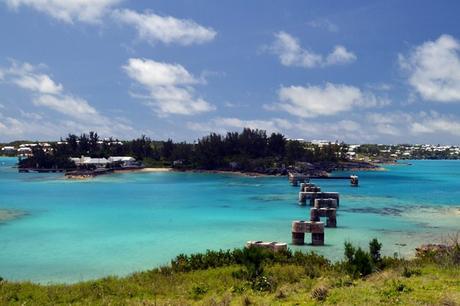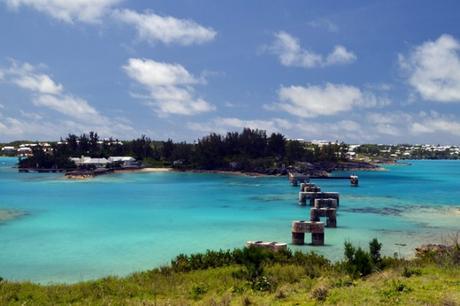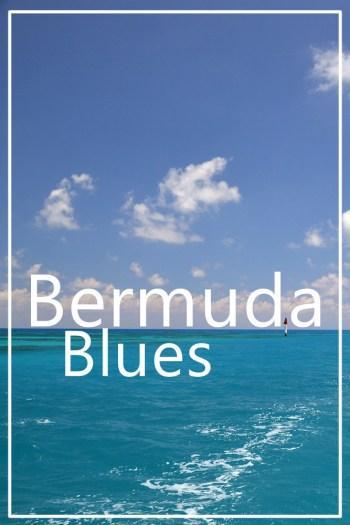 Bermuda made a late appearance into our cruising plans. Before we'd giving our routing back to New England much critical thought, the seed was planted with an email from a Bermudian. We have a few things in common; if we'd be visiting Bermuda, he'd love to meet up.
It took a little while for this to germinate and grow into a full-fledged plan, but by the time we were halfway through our month in the Easter Caribbean it was locked in—even before the kicker of an available dock and laundry facilities came up! We would sail to back to Connecticut via Bermuda.
At first glance, these islands are pretty out of the way—there's a reason one golf course is called The Mid-Ocean Club, out there alone in the Atlantic (kind of a theme with the other British Overseas Territories we've visited this year!). And it had to be a choice. For US-bound boats in the Caribbean, it's a downwind ride, island hopping all the way, to landfall in the US Southeast: who could pass that up? We could, apparently, with a long passage that wasn't quite downwind instead.
I'm so glad we did.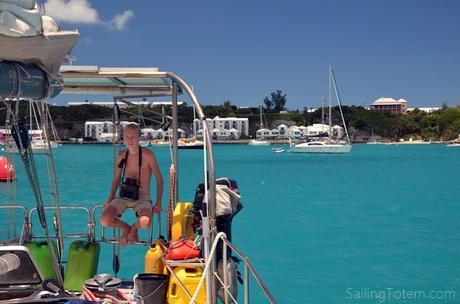 Niall finds a patch of shade under the solar panels on our arrival to St George's
Bermuda has been exceptional in many ways, but the most unexpected is in new friendships – for us, and for our kids. The overused phrase about being married to your best friend… well, it's true. We're social creatures, but I'd go anywhere with Jamie and no prospect of socializing (however unlikely that seems) and be happy. But it's a different consideration with kids aboard. However comfortable they are just hanging with the grownups, peer relationships are important. With the path we've had on this year we haven't anticipated being able to meet up with other kid boats, and our relatively fast pace made local friendships seem unlikely.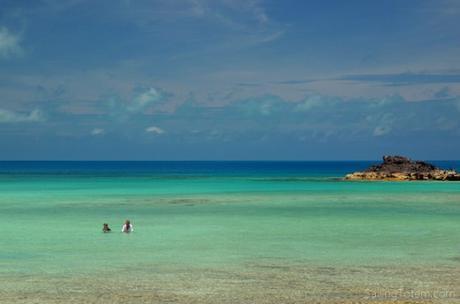 Siobhan and Niall take an impromptu swim to cool down from a hike
Instead, we've been fortunate to connect with a couple of families here who had similar aged kids, who the girls now count among their friends. One family arrived at Totem what Sean called a Bermudian Welcome Kit: Bermuda's own Goslings Black Seal Rum, and locally produced Barritt's Ginger Beer. Gosling's rum is in fact the only proper way to make the Bermudian cocktail, a Dark 'n' Stormy, which we think of as a signature drink on Totem.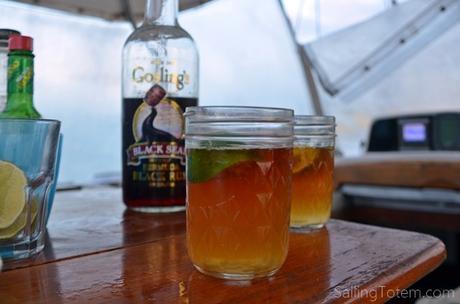 We're not hipsters. We've just broken all the real glasses.
While we were in the cockpit getting educated in proper Dark 'n' Stormy preparation (we've been doing it wrong: you float the rum!), the girls started doing laps from the bow, into the water, up the side deck, and back off the bow again with their new BFF Samantha.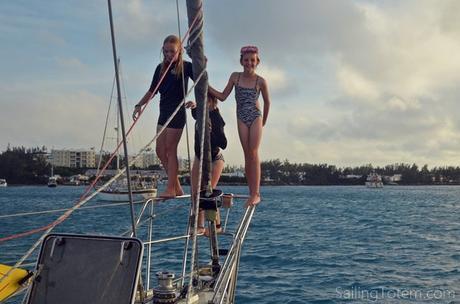 Meanwhile, the initial flier of a contact that came through the blog—wedging the figment of routing via Bermuda in our brains—turned into days stern-tied at a private island, hosted by a lovely family with daughter on a similar wavelength to our two.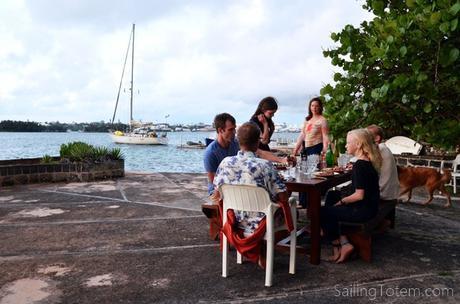 Al fresco dinner with Totem at the dock
When we think back on Bermuda, it will be the hospitality and friendship we were shown, with myriad lessons about Bermudian life and culture mixed in, that have contributed so much to making our short stay here a memorable one.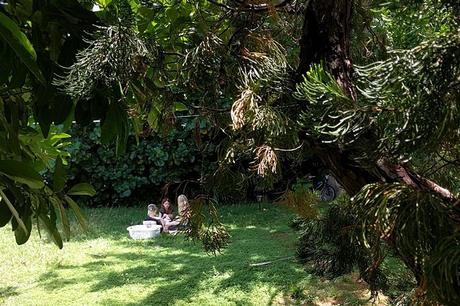 Sekrit Girlz Bisniss
So here we are, just a week after arrival, with Mairen and Siobhan wondering how they'll keep in touch with Ellie and Sam (email, skype), and I've been asked more than once when they'll get to see them again (we are thinking about coming back next year).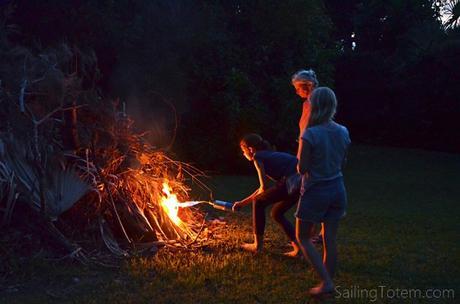 Girls playing with fire. I mean, the controlled burn of organic debris.
Bermuda lived up to everything we had heard of it as a uniquely beautiful place, even though we've missed those "must-see" attractions that cruise ship passengers are carted to by busful. And no doubt, we've missed a lot, because although I'm making it sound like we were just lolling around with rum drinks and seaside dinners—we've mostly been on Totem, heads-down on projects…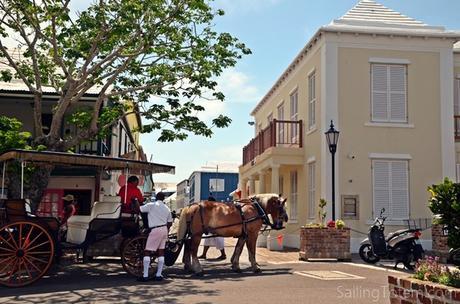 We did get to see some stylin' Bermuda shorts, appropriately worn dress-style with kneesocks
…or chasing the alternator repair, or something similar. Although we did score a visit to the Oracle base, where I confess to turning into a grinning fool of a carbon rockeship fangirl, and had an exciting close encounter with America's Cup multis in the bay.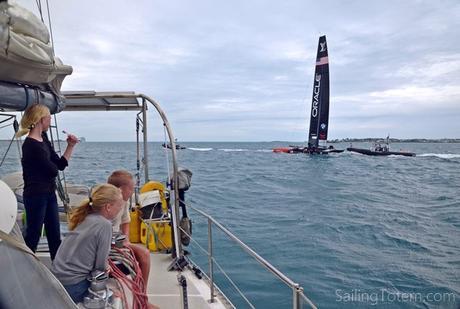 No pictures allowed at Oracle base, but they did pass by us in the bay. Yes, Siobhan is brushing her teeth. You'd jump up on deck with your toothbrush too.
What made Bermuda a place we're thinking about coming back to, in the world of possibilities? It was the people. The families who made sure we felt welcomed in their homeland to start, but in truth, it was in repeated interactions with people in Bermuda. Or the clearance officials, who not only provided one of the fastest and friendliest clearance experiences ever, but were engaging and happy to pose for a picture after we handed over our spears and flare gun.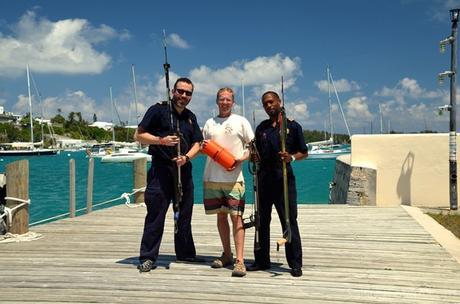 Five spears stashed around Totem. Five!!
Or like Gaven Black, who runs the auto body shop we brought our alternator to (needing an impact driver to get the pulley out) and ended up driving us all over Hamilton to get things done one morning, from a machine shop to tools supply to chandlery, just because.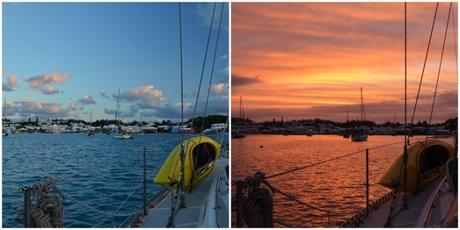 Sunrise, and sunset, in St George's
This is a special place, and not because of the pink beaches and endless shades of turquoise water.