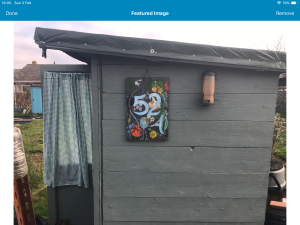 I won't ever be a Cecil B Demille but it's fun making videos! This is my foray into YouTube.
https://m.youtube.com/channel/UCTpAbp0a9lNyCZfbT2nTWaw
It was such a beautiful but cold morning today I spend a lot of time at the allotment. Not only to plant the bare rooted roses that arrived yesterday, but for my well being. I won't dwell on it but after recovering, successfully, from three types of cancer over the last 5 years there are times I can't get the worry out of my head of it returning. So a few hours on the allotment was very cathartic and now all is right with the world.
Whilst I was there instead of taking photos, I thought I'd have a little fun and make a video of Plot 52a. I've been watching a lot of YouTube videos recently to gain information on allotment life. This afternoon I set up my YouTube channel, but now realize that the videos are narrow and maybe I need to use an iPad rather than iPhone and every time I stopped recording, it didn't pause so I have 5 little short videos. It's a big learning process.
I have since found out how to upload videos without the black strips down the side so the next video should be easier to watch.
Anyway, if you are interested please take a look at the Plot 52a channel using the link above and if interested subscribe to see how it evolves. Thank you!