Written by Karen Parolek of Opticos Design.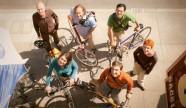 I feel like I'm tempting the fates, writing on this topic today. I just got my second biennial email reminding me that it's time to re-certify as a B Corp. As we have done at least twice before, we must take the B Impact Assessment to evaluate our overall social and environmental performance, which makes me tremble a bit. This is a good thing­—if we're going to talk the talk, we'd better be walking the walk. Here's the story…
In 2007, we heard about a new certification process by the non-profit B Lab for businesses committed to social and environmental responsibility. One of the keys, though, was that they were certifying for-profit businesses, so-called triple-bottom line businesses, committed to positive social, environmental, and financial bottom lines. They talked about using for-profit businesses to change the world. We were intrigued.
Since our inception in 2000, we had been building what we hoped to be a different kind of business. Our passion was building great communities. Along the way, though, we wanted to create a business where people enjoyed coming to work, felt respected and valued as members of the team, and were compensated fairly while working reasonable hours. We also wanted the communities that we worked in to be able to trust us to look out for their best interests, regardless of whether our "client" was the municipality or a private developer.
But, through those years, we struggled to answer questions on how to do this. How do we determine fair compensation, when we try to set a 40-hour work week and other firms in our industry typically have much longer working hours? How do we share financial information with our team in a way that engages and empowers them rather than absorbs their time and energy? How do we ensure that we choose clients who are willing to consider the best interests of the communities in which their projects will be built? How do we make sure we're fulfilling our commitment to a positive social and environmental impact? But having no other similarly-committed businesses to discuss these with, it often felt like we were working in a vacuum.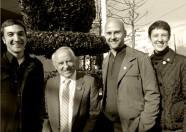 Opticos Principals with Patagonia CEO Yvon Chouinard after both companies became California Benefit Corporations in January 2012.
When we heard about B Corps, it seemed as though we might finally be seeing some light.  These appeared to be like-minded business people, searching for similar answers. The question now was: would we qualify?
We took the survey in the fall of 2007. It was fascinating. Some of the questions were ones we had asked ourselves already, but many were not. Thankfully, we were able to answer positively to enough of the questions to pass and become one of the founding B Corps. Whew!
We were certainly excited. However, rather than relief, we felt challenged. By taking the survey, we had managed to end up with more questions than we started out with. B Lab had essentially provided us with a road map to improve our business and fulfill our intention of having a positive social and environmental impact. Thus began our journey as a B Corp, which continues to this day.
Thankfully, we have found the community of B Corps to be the support system that we needed. It's a group that is interested in making a difference in the world, and has found that their for-profit businesses are a powerful way to do so. Our affiliation with this group has encouraged us to see our business as a power for good, while constantly challenging us to re-think the status quo and our way of doing business, in the way we impact the environment and in the way we work with our clients, employees, consultants, vendors, and the communities where our projects are located.
The questions we've asked have not always been easy to answer. For sure, we haven't always answered them well. But, taking the time to ask has made us more mindful of our impact, and we believe, led us to a more positive impact. Hopefully, it will also lead us to recertification as a B Corp. We'll find out soon.
This post originally appeared on Opticos Design's blog.