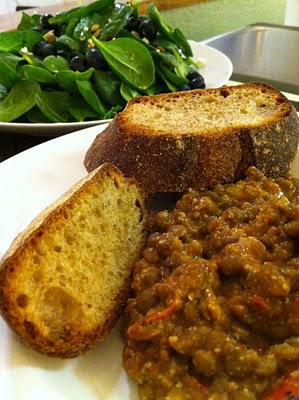 Breakfast and Lunch today were fairly uneventful (oatmeal & yogurt and leftovers, respectively) so I didn't take pictures.  I'm still struggling with how often and what to post so please give me your feedback - do you want to see every meal?  just new or interesting creations?  nothing (hopefully not that one)?  Let me know either in the comments or via email!
For dinner I tried a new recipe - vegan dal makhni which was adapted from oh she glows who in turn had adopted it from the vegan yum yum cookbook.  I've been making a lot of lentil based dishes lately for some reason but they've all been different enough that I haven't gotten bored.  This one lured me in with cashews, cardamom, and cinnamon and definitely didn't disappoint.  I did have that familiar feeling that if I just adjusted the spices slightly I could make it even better but as usual I can't figure out exactly what to change, feel free to offer suggestions if you give it a try!
The recipe is below, I mostly followed along with just a few adjustments.  My most exciting change was using the minced dehydrated onions from penzey's which I had bought awhile back but hadn't used yet.  I LOVE these!  They're just like regular onions but without the mess, smell, and crying.  I'll definitely be picking up a big bag next time I'm there.
Yields ~4 cups, 1200g (despite what the original recipe says)
Ingredients:


for lentils:

1 cup (200g) uncooked green lentils2.5 cups water


for base sauce:

2 tbsp evoo4 tablespoons penzey's minced onions (rehydrated w/ ~1cup water, equivalent to 1 cup chopped fresh onion)1 big + 1 small clove fresh garlic, minced1/4 tsp ground cinnamon1/4 tsp ground cardamom1/4 tsp ground clovessmall amount ginger (I used one flake of penzey's sliced china ginger root)1 bay leaf1 can (14.5oz) muir glen fire roasted tomatoes, no salt addedvery small amount of sea saltadditional water as needed


for cashew sauce:

2/3 cup (80g) cashew pieces~1/2 cup water
Preparation:
1.  Cook lentils using method of choice (I used a rice cooker, you can also make on the stove by bringing to a boil and then cooking at medium heat for ~40 min - it took a little over an hour in my rice cooker)
2. Heat skillet/pot with evoo to medium, add onions and cook ~5 min
3. Add spices minus garlic (I added my dried ginger at this point but the original recipe added fresh ginger with the garlic in the next step), cook 3 minutes
4. Add garlic, cook 2 minutes
5. Add tomatoes and salt, cook about 5 minutes
6. While step 5 is cooking (or before if you're prepared, or after if you're not :) ) - combine cashews and water in food processor (or food processor like gadget) and mix to paste-like sauce
7.  Stir in cooked lentils, then stir in cashew sauce.  Add water to thin out as needed
8.  Enjoy!