The most beautiful makeup of a woman is passion. But cosmetics are easier to buy.
- Yves Saint Laurent
Shopping
and
Makeup
I always love shopping. I think every woman can relate to that. Some of the stuffs I bought I haven't used them yet. I keep them as is with their tags on just in case I want to give them as a present to friends and families. I usually buy things that I need. Yes, they may be just hanging in the closet right now but I know I'm going to use them in the future or someone might need it. With that in mind, I'm confident I am not a shopaholic 😊.
I don't wear make up most of the time. My work doesn't require me to put on make up and even of they do, I know I will have hard time following them and it might prompt me to look for another job. I'm just a no makeup guru. With all of these said, I know I should be the last person to jump into the bandwagon of makeup buying. But no! Even do I don't wear makeup , I love collecting them. I haven't used most of them save for swatches. I'm afraid they will all expire before I could even touch them 😊. So I thought of doing this mini makeup haul post and review of my latest makeup buys. This is my first haul post. I have reservation in doing this post actually but in the end, here I am writing this and you reading it.
Victoria's Secrets Mini Haul
I had these Victoria's Secret for many months now but it seems I just bought them yesterday. Obviously, I haven't used them much as you can see the contents are still intact and the truth is, I haven't used them to a decent occasion. I may have dabbed a little color here and there just to see its pigmentation and that's it!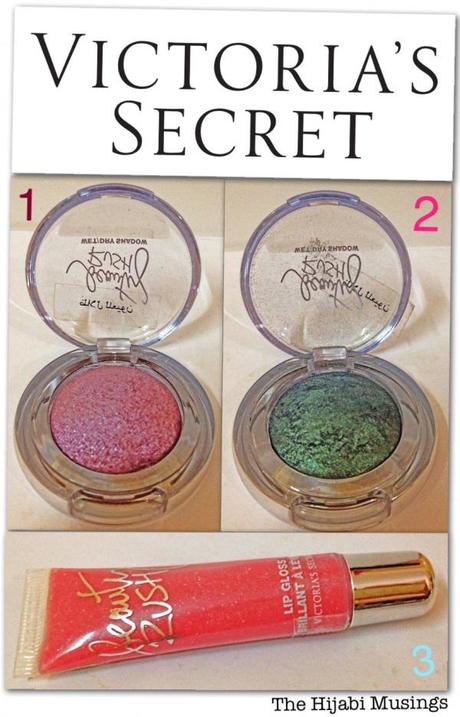 1. Beauty Rush Wet/Dry Shadow in Violet Femme
2. Beauty Rush Wet/Dry Shadow in Jade-a-Kissed
3. Beauty Rush Lip Gloss in Pink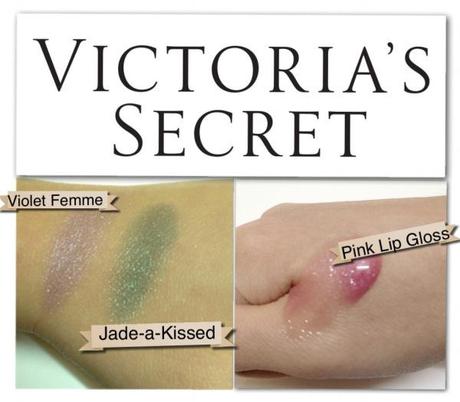 The eye shadow can be used either wet or dry. I haven't tried them wet though. The pic shows dry swatches only and as you can see, it is very pigmented. It has glittery effects too. You need not to sweep a lot to give you the color. This little 1 g eye shadow comes in a cute silver jar with easy to open transparent lid.
Violet Femme gives a soft touch while Jade-a-Kissed provide a little sophistication. Its glittery effect made it more suitable to wear at night occasions. Honestly, I wouldn't dare wear these on a simple get-together occasion. I would reserve this for a more formal functions, if I have to wear it.
As for the lip gloss, it has a very luscious effect. It is way too glittery. . The color can be deceiving because the pink tint isn't obvious or maybe it was just overwhelmed by the glitters. However, it has a sweet bubblegum scent which i liked so much. I don't used it often as it has the tendency to make my lips dry. I would always prefer to use Sebamed Lip Balm with SPF 30 when it comes to lip care.
Maybelinne Makeup Haul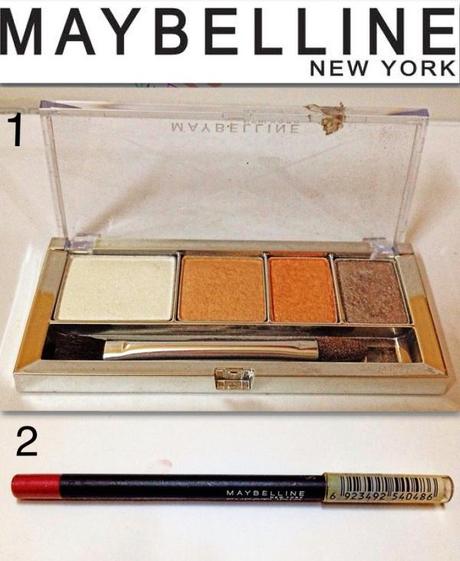 These are Maybelline New York Eyestudio Line which I got a year ago on our trip to Brunei Darussalam.
1. Maybelline New York Eyestudio Eye Shadow Palette in Gold Nuggets.
2. Maybelline New York Eyestudio 2-in-1 Impact Shadow Liner. I don't know exactly what color is this but the shade is somehow in between pink and red.
The eye shadow palette have all natural color. It is not pigmented. The gold hues appear so nude on skin which make it hard to distinguish if you're wearing one or not. This can be worn during the day save for the gray hue or even for an everyday look if you prefer that way. I don't have the swatch as the lighting of the room made it difficult for my cam the pick the color. If you are a type who want prefer bold colors, then this palette will disappoint you.
The 2-in-1 Impact Eye Shadow Liner is waterproof. It stays longer too. It can be used as eyeliner and eyeshadow at the same time. It also glides easily and smoothly.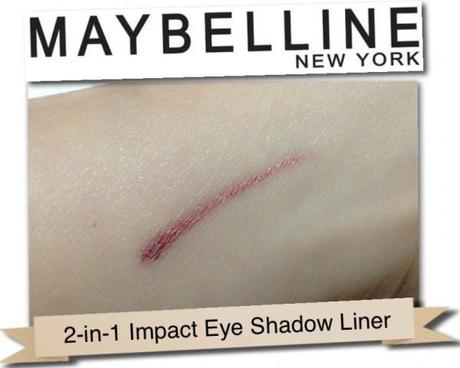 Maybe it will take a year or more before I consumed all of these but will I repurchase when I'm done with these babies? Yes except for the Beauty Rush Lip Gloss. Not only I find it too glittery but it dry my lips too.
I still have some makeup haul posts in my draft now and maybe I would have them posted here in the coming weeks. Lemme know your thoughts about this by leaving your comments below. I would love to hear from you.
I would like to end this post with this lovey quote from Islamic Quote to inspire women of today's generation.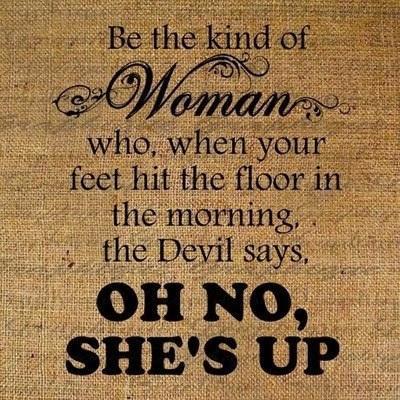 At the end of the day, its not what colors you painted on your face that makes you beautiful. It's what that lives in your heart that makes your appearance glow.
Love Lots,