Following the launch of the Real Techniques Bold Metals Collection™ comes the introduction of the Makeup Brush Cleanser and Brush Cleansing Palette. The Real Techniques Makeup Brush Cleansing system available exclusively through Chemcorp International, compliments the sleek high-end bold Metals brush range, by working to clean the brushes, returning them to a soft, luxurious, fresh new feel. Erica Galea for Chemcorp International says, "Real Techniques is a global leader in makeup brushes, so it makes perfect sense for them to have brush cleansing products to complement their range. Beautiful high-end brushes deserve to look their best and now they can all the time with the new Makeup Brush Cleanser and Brush Cleansing Palette."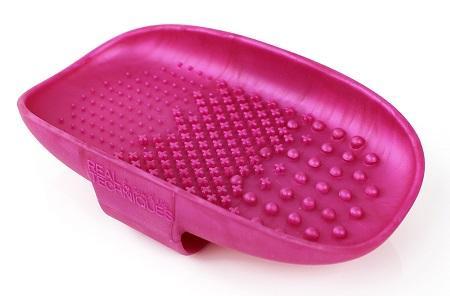 Makeup Brush Cleansing System from Real Techniques
Rachael Brook, Real Techniques Beauty Expert says, "Bold Metals makeup brushes are my absolute go-to beauty tool. The new cleansing products are the perfect addition, I use them all the time, to keep my brushes looking and performing like new. I love that it's so quick and easy to use, I don't go anywhere without them in my makeup kit." Makeup Brush Cleanser The new Makeup Brush Cleanser is designed for deep cleaning, with the cleansing power of a concentrate. The laboratory proven formula works to effectively remove the makeup you can see and even impurities you can't see, for a new brush clean.
Makeup Brush Cleansing System from Real Techniques
Containing no alcohol or phthalates and dermatologically tested for gentleness, the Makeup Brush Cleanser is quick and easy to use, simply apply and rinse. What's more is it's safe to use on all Real Techniques Brushes.Brush Cleansing Palette Great application starts with a clean brush. When used with the Makeup Brush Cleanser the new Brush Cleansing Palette helps sweep away makeup, oil and impurities from bristles to give a truer, more consistent application.
Made from high performance grade silicon, lightweight and ergonomically designed to fit comfortably in your hand. The exclusive multi-textured surfaces, work to gently move between the bristles for an enhanced deep cleansing. The Real Techniques Makeup Brush Cleanser is available for an RRP of $17.99 and Brush Cleansing Palette an RRP of $34.95. Available online now at www.realtechniques.com.au
–