Once only available if you "knew a guy", this dram with the well-worn ABV is now available to the general market: Maker's Mark 101 Proof. Sitting in a comfy spot between the standard Maker's and the Maker's Cask Strength, this could be seen as a middle ground or a stepping stone between the two. Almost perfectly so.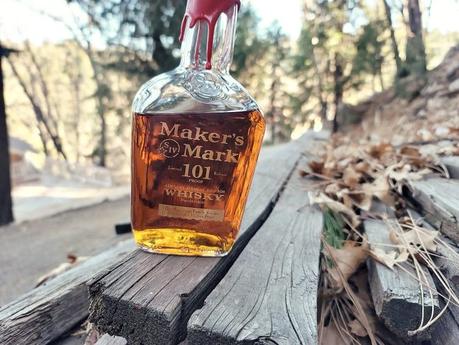 The standard Maker's Mark clocks in at 90 proof (45% ABV) and the Maker's Cask Strength hovers around the 112 proof (56%) mark. 90 to 101 is an 11 proof (5.5% abv) step and 101 to 112 is another 11 proof step. The CS does shift up and down a wee bit, but generally, it comes in close to 56%.
Whether this is just a happy accident or specifically designed, I can't say. What I can say though, is if you're looking for a way to see how proof plays into a whiskey release you and some friends can pick up this, the CS and the regular MM and conduct a boozy experiment. Or, if you're down for doing some math, you could just grab a bottle of the CS and water down to 101 and 90.
That's enough experiment talk, let's get to drinkin' and settle into this bourbon review.
Maker's Mark 101 Proof – Details and Tasting Notes
Whiskey Details
Style: Bourbon
Region: Kentucky, USA
Distiller: Maker's Mark
Mash Bill: 60% Corn, 26% Red Winter Wheat, 14% Malted Barley
Cask: New Charred Oak
Age: 4+ Years
ABV: 50.1%
Maker's Mark 101 Proof Price: $40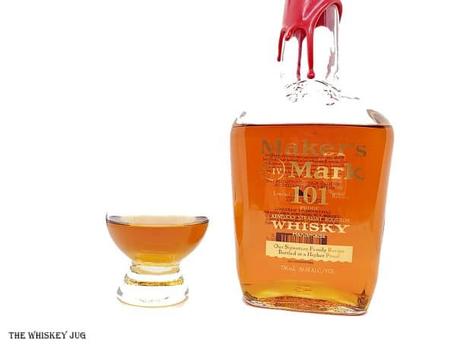 "Bill liked to tuck a little 101 aside for friends and special occasions. And for a long time, this was the only way you could experience these intensified notes of caramel and spice brought on by the higher proof…" – Maker's Mark
Maker's Mark 101 Proof Tasting Notes
EYE
Reddish caramel
NOSE
Oak, caramel corn, vanilla fondant, dried dark fruit, leather, roasted nuts and some citrus peels and baking spice.
The aroma is quite warm and full with an even pairing of sweet and earthy notes.
PALATE
Oak, caramel corn, vanilla fondant, honey, dried dark fruit, leather, roasted nuts, baking spice and some hints of citrus peels and cocoa.
In essence, it's the same as the aroma but with some added, darkly sweet, notes of honey and cocoa.
FINISH
Med-long -> Oak, baking spice, and dried cherries fade out to caramel and spice.
BALANCE, BODY and FEEL
Well balanced, med-full body and a warm oily feel.
---
Maker's Mark 101 Proof – Overall Thoughts and Score
This is really quite good. It's a warm tasty glass of bourbon and comes across as at least a step, if not two, above the standard Maker's Mark. There's a lot more going on with this whiskey, most notably the spice quality. As it sits, the baking spice quality expands and gets more prominent, more complex and stretches deeper into the finish.
A splash of water brings up more of the darkly sweet notes and broadens the oak across the palate giving it a deeper sensation. On the aroma very little changes – it seems to mute it a tad, but really nothing major or dram-changing.
This Maker's Mark 101 Proof is quite tasty and is equally fun to sip as it is to mix with, making it a versatile drinker. I made a Sazerac with it over the Thanksgiving weekend and then ended up making a couple more as the weekend went on. Dangerously easy to drink no matter what form it's in.
SCORE: 4/5 (very good, highly recommended – B+ | 87-89)
Maker's Mark 101 Proof Review
$40
Summary
This limited edition release is well worth seeking out. Tasty, sippable, mixable whiskies that won't break the bank are seemingly difficult to come by these days, but this Maker's Mark 101 Proof manages it on all fronts.
Overall
4
Nose

(4)

Palate

(4)

Finish

(4)

BBF

(4)
Sending
User Review
0

(

0

votes)
Comments Rating
0

(

0

reviews)

''''