With midi being the current length of choice, I was quite amused when my mom found this old newspaper cutting of her and a friend.
From before she was married, in the late 60's when she was probably 19 at most, the young Miss Jones was snapped sporting the new midi length. I absolutely love this, my mom with her crazy hair and a lovely midi coat. It makes me wish that I had grown up back then. The girls say they love the new length because it makes you look taller and it's warm. How very practical! Well anyone who's met me knows that I could do with looking a little taller!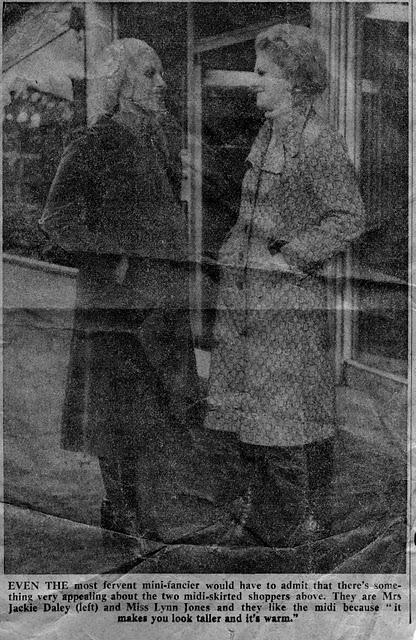 The full caption reads:
Even the most fervent mini-fancier would have to admit that there's something very appealing about the two midi-skirted shoppers above. They are Mrs Jackie Daley (left) and Miss Lynn Jones and they like the midi because "it makes you look taller and it's warm."
Now this gives me hope. I haven't dared try a midi length yet, just because I'm so short. It's likely to just be my answer to the maxi length which I also haven't tried for the same reason. But my mom is short as well, so maybe I should look around a little more to see if there's one out there for me.
Any other short girls struggling with this problem at the moment?