STYLE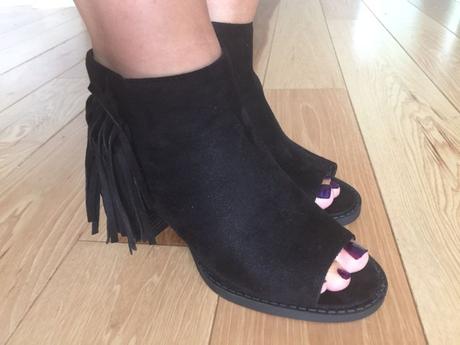 My feet in these fringed stacked-heeled peep-toe boots by SODA.
* * *
Usually when I go to the Outer Banks for vacation, I come home with one special item that I purchase at one of the boutique stores in Duck. This year, I came home with a fabulous pair of peep-toe stacked heeled boots with fringe. As soon as I saw them, I knew it they were going to be taking the 7-hour ride home with me. Like many of you, I tend to love shopping for shoes and accessories as opposed to clothes for one main reason: my shoe size rarely changes. I typically wear a size 6 or 6.5 shoe (which is why I tend to score at stores like DSW and its sales rack. Last year, I got a pair of grey, over-the-knee boots for $12 bucks on that rack…probably my most impressive purchase to date!)
Accessories are so much fun to incorporate into your wardrobe because of their versatility. You can style them with different outfits to add versatility and longevity and make an outfit go from ho-hum to unique and interesting with little effort. Pieces like scarves, hats, bags, jewelry, and belts have the ability to change the look of an outfit with ease. When shopping for accessories, keep these few things in mind:
Buy accessories that will work with many of your existing outfits.
Buy accessories in various tones and colors that can mix and match with a basic wardrobe.
Buy accessories that may be in style for more than one season.
Buy accessories that add drama or flair to your wardrobe, especially if you are like me and have a wardrobe that's filled with black and white.
Buy accessories that can act as statement pieces.
I am sure you will find lots of different accessories that can help punch up your wardrobe. Accessories are meant to be fun—and you should enjoy having fun with them.
What's your favorite accessory you own?
For now, my favorite piece? The boots.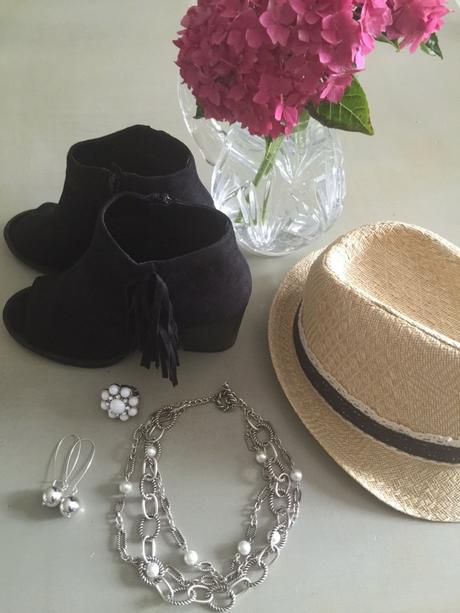 Boots, SODA. Hat, Anthropologie. Necklace, Stella & Dot.