Our son, ever the creative innovator, devised a deck sun shade so ingenious last year that I had to share. In his own words...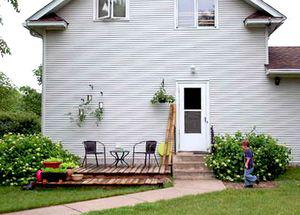 The Morning Deck, as we call it, is great in the morning. It is a perfect spot to sit and drink a hot cup of coffee on a cool morning and watch the kids play on the driveway and the swingset.  After noon however, this beautiful spot is beaten within inches of life by the sun, making it unbearable to sit and enjoy for very long. I had seen sunsails for sale in various catalogs and found some online, but none of them really looked fantastic and the best looking were more expensive than I was willing entertain.  My wife had seen a blog where someone made a tote bag out of an old sail that she had picked up for cheap (or free, i can't remember) at her local sailing shop. If they could get an old sail for cheap then why couldn't I? The seed was planted.
He ended up getting an old sail free at a local sail shop, picked up some pulleys and rope and voila... he made an inexpensive sun shade that is fully adjustable to accommodate sun angles, is easy to take up and down, and also has a creative look to make you smile!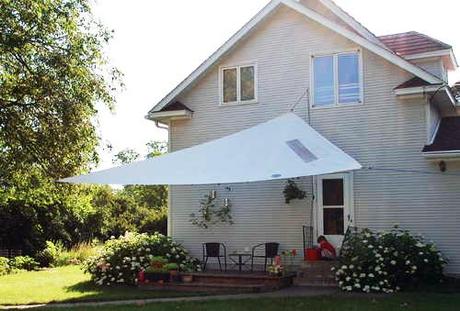 Read the whole story, including instructions in case you want to try making one of your own, at Instructables.com.