When I discovered YSL's majorelle blue nail polish it was love at first sight. If you tried it already you know what I'm talking about, if you haven't, try it and you'll see. On top of having the most perfect electric blue color for a nail polish (I know from experience because I tried several ones after seeing
Beyonce
's blue nails some months ago) this polish reminded me of our trip to Marrakesh back in 2010 and only for that it's worth it.

source: jardinmajorelle.com
Once you visit Marrakesh and the Majorelle gardens you will never forget the intense blue and the bright yellow covering the housecontrasting with the green plants in the garden, it is spectacular. And how cool is to wear these memories on your nails ?
But majorelle blue (= electric blue) is not only nice on nails, it's perfect to add some color to an outfit. My preference goes for combining it with neutrals (grey, beige, taupe) or with black and white for a super chic look. I'm less fan of color blocking with bright colors.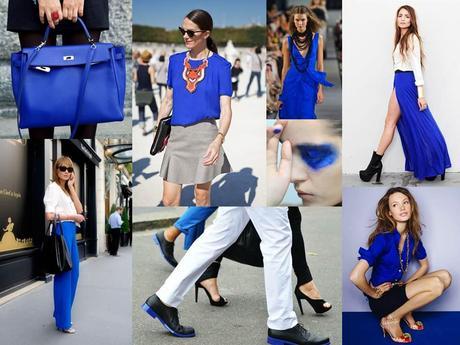 sources: what do I wear, momongamon,  whowhatwear, stylebistro, planetblue, streetstyle aesthetic 
Of course, if you're obsessed with fashion you're probably going to tell me that this color has been around for years and is far from being a new trend. Ok ok miss know-it-all, you're right, but just in case majorelle blue becomes the new black (yes, please !) I should prepare you to hear more and more about it
For the moment I'm completely obsessed with majorelle, I have it on my nails and I've been day-dreaming about a pair of trousers and shoes and basically everything that I have selected here.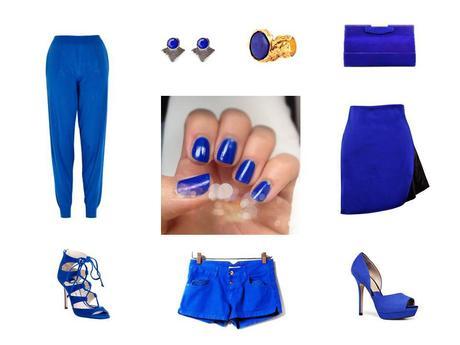 From top left: Stella Mccartney trousers (
netaporter
), earrings (
sportsgirl
), Arty ring (
ysl
), suede clutch (
zara
), my majorelle blue nails, leather slit skirt (
stylebymarina
), Jimmy Choo sandals (
savannahs
), shorts (
pullandbear
), suede heels (
zara
)
How about you, have you fallen for this gorgeous blue yet?
xx Marta
ps: some weeks ago I did a post on shades of blue where I talked about electric blue. I'm sorry if you felt that I was repeating myself (I probably was) but majorelle is enough color to be mentioned (at least) twice.