Their (slightly cheesy) name may evoke feelings of sunshine, fresh-cut daisies, and rainbows, but Majical Cloudz are anything but. Maybe that's the genius behind the Montreal duo of Devon Welsh and Matthew Otto; utilizing images of supposed happiness, turning them upside down, and churning out something else entirely. Whether that's the band's intention or not, Majical Cloudz's latest release, Impersonator, is a dizzying achievement. Throughout ten stark, quiet tracks, the listener is transported up, down, around and sideways; an astonishing feat considering the delicate, impeccable stillness of these sounds.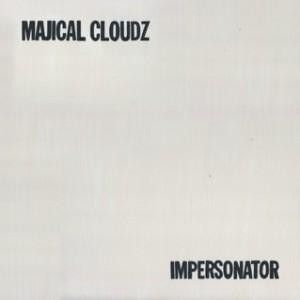 If you've been charting Majical Cloudz's rise from buzz band to unlikely blogosphere heroes, then you pretty much know their story; Welsh sings, Otto creates the beats, both are good pals with Grimes, etcetera, etcetera. However, none of these facts really explain Majical Cloudz, or how they create their soft, startling music. On Impersonator, each track is a slow burn, a candle flame gently flickering in the darkness until it's extinguished with one fell swoop. There are no effects, no tricks. Just a soft, stunning power.
While Majical Cloudz are a duo– and this isn't to take anything away from the sublime, simple backgrounds that Otto so carefully crafts– listening to Impersonator feels like we're holding a magnifying lens to the innermost corners of Devon Welsh's soul. The deeply personal vibe that permeates the album can be perfectly symbolized by the repetitive, hypnotic "I" loop of single "Turns Turns Turns." Welsh is never not singing directly to you, emptying the entire contents of his guts through his weary words. Warm and rich, Welsh's voice is sort of like Jeff Mangum's in the way that we're not exactly sure if he can actually sing, but it's haunting and beautiful either way.
Each track on Impersonator is intoxicating in its own distinct way, although nothing ever strays from Welsh and Otto's minimal style; Majical Cloudz give you all you need, and nothing more. Not one beat, one word, one syllable is gratuitous, from lonely, cavernous lines like "I wanna feel like somebody's darlin'" on the opening title track to the subtle background buzz of closer "Notebook." Though we've heard it prior to the album's release, "Childhood's End" is no less breathtaking than before. Clearly, no one but Welsh and Otto can capture the fleeting innocence of being a child– and also those terrifying moments when you realize it's evaporating before you– quite so elegantly or brilliantly.
Whether you want it to or not, Impersonator crawls into your soul and stays there. When you listen to the album from start to finish and go to sleep,  it plays over and over in your head, like a cloudy, billowing dream. Slow and slightly tiresome at times, Impersonator is no less sharp and evocative, without a doubt a dream worth repeating.

4 / 5 bars