Mahalaya (Bn:
মহালয়া
M
ō
hal
ō
ya) marks the end of the "Pitri P
ō
kkho (
পিতৃ পক্ষ
)"
and the commencement of "Devi P
ō
kkho (
দেবী পক্ষ
)" and its significance in Bengal is that it sets the six days countdown for the "MahaSaptami" of Durga Puj
ō
. The preparations for the Durga Puja reaches its final state during the Mahalaya.
Ritual among Hindu Bengalis:It's a ritual among the devotees to fast since dawn and offer prayers ("tarpan তর্পণ") at the river banks of Ganga as a remembrance of their forefathers and take a holy dip in the sacred river. Several priests can be seen at the Ganga Ghats performing Tarpan for different groups of devotees, this ritual starts early at dawn and continues till mid day. It's only after performing this ritual the devotees end their fast.Radio and TV Telecasts: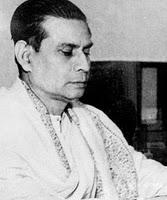 Birendra Krishna Bhadra
(1905–1991)
It was in the year 1930, that the All India Radio (AIR) (আকাশবাণী) broadcasted the first live Mahalaya programme. Since then, it has been aired every year at 4:00am on this auspicious day and thus, Mahalaya has been deeply associated with the impeccable voice of late Birendra Krishna Bhadra whose enthralling chants of "Chandi Path" filled every house in Bengal. In spite of his absence, his voice is still aired and has marked its presence on the World Wide Web!
Since almost two decades, Doordarshan has been telecasting an Agamoni Mahlaya Programme, generally a two hour programme which starts around 4:00 am - 5:00 am. It comprises of a dance drama with the evergreen chants by Birendra Krishna Bhadra. This progarmme is telecasted all over India and is presented by Doordarshan Kolkata.Today, it's not only the Government broadcasters but the private channels like Star Jalsha, Radio Mirchi etc.  have joined the league to present Mahalaya programme with better graphics and advanced special effects. But, nothing is comparable to the enchanting recital of "Mahishasur Mardini" by Bhadra; but it's a welcome move that the private channels are coming forward to enhance the importance of Mahalaya and the quality of Mahalaya Broadcast.Mahalaya By Birendra Krishna Bhadra"Ya devi sarbabhuteshshu, sakti rupena sanksthita Namasteshwai Namasteshwai Namasteshwai Namo namaha."
"
যা দেবী সর্বভূতেষু শক্তিরূপেন সংস্থিতা
নমস্তস্যৈ নমস্তস্যৈ নমস্তস্যৈ নমঃ নমঃ।
"
Wishing everyone Shubh
ō
M
ō
hal
ō
ya. | সকলকে যানাই মহালয়ার শুভেচ্ছা।