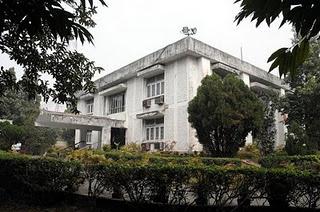 Indira Bhavan, Kolkata
The decision of the West Bengal state Chief Minister, Mamata Banerjee to turn Indira Bhavan into "Nazrul Bhawan" needs to be reconsidered. I loved her earlier decision to setup Kazi Nazrul Research Centre because previous governments had not done enough to commemorate Nazrul, whose literary works, partiotic spirits and lyrical compositions were praised throughout the country. 
The ongoing controversy on the renaming issue had raised everyone's eyebrows and made us thing that why was it necessary to rename Indira Bhavan and house the Nazrul Academy and museum in it and whether this is a right decision to do so. We know that West Bengal doesn't have a permanent Chief Ministers house which hampers the image of "Brand Bengal", so Indira Bhavan could have been turned into the chief ministers residence instead avoiding all the unnecessary controversy.The question now arises is that: Why turn Indira Bhavan into Nazrul Bhavan?
This is undoubtedly an unwanted and unnecessary move to turn Indira Bhavan into Nazrul Bhavan. The building has its own history intact and it's totally unfair to play with it. How can the present government change the name of a Historical Building? Its's nothing more than political game-play.

On the other hand, its shameful that the government wants to dedicate an old and used building for Kavi Nazrul. Its disgraceful to house the Nazrul Research Centre in this old two storey building. Its a matter of shame for us, the Bengali community of West Bengal that- our leaders are now more interested in playing politics instead of doing something constructive. 

Why not construct a brand new modern building dedicated to our beloved rebel poet Kavi Nazrul Islam? It would be a matter of pride for the entire Bengali community. We can boast of having a modern structure equipped with all modern amenities and have an architectural design that will suit the purpose of the building. 
In the midst of this name change controversy, Nazrul kin- Misti Kazi expressed her grief saying,"Thre is no reason for such controversies. It pains us to see such debates over Kazi Nazrul Islam who is a world poet." 


Peace and Development of Bengal is all we need.