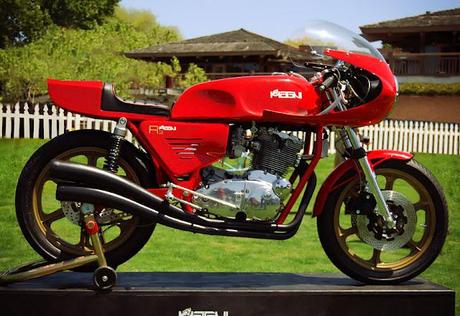 If there's one motorcycle around today that desperately needs a proper photo-shoot done and the images sent to me post-haste its this one. The only photos in existence are from its debut at the 2012 Quail Motorcycle Gathering and
I had to summon up all my Photochopping skills to whip them into WideOpenMoto shape but it was worth it because this bike really is a stunner. Its an Italian masterpiece with a US tuned, blue collar British triple at its heart; the Magni R3

.

The bike was co-built for owner
Brent Lenehan
by the legendary Italian tuners Magni and Triple Tecs, a US based Trident/Rocket 3 specialist who sorted the BSA Rocket 3 engine
with a custom
930cc
cast cylinder block, a flowed head, Tri Spark ignition and Carillo rods. Mikuni 32mm carburetors help produce a claimed 96 hp at 8500 rpm.The American accented, British triple then hopped a flight to Italy where 
Magni constructed one of their MV 500 chrome-moly race frames to wedge the engine into.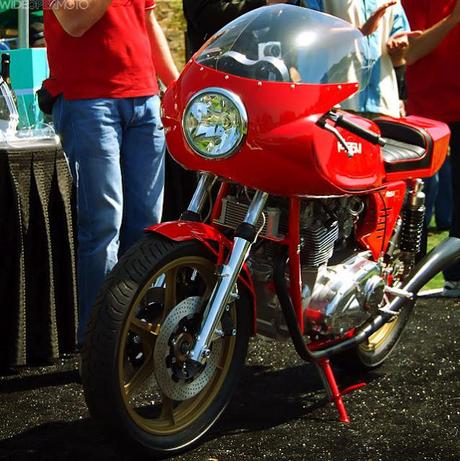 The first thing which springs to mind when you see the bike is 'Magni', the result of their distinctive, classic bodywork. The fairing and hand-hammered aluminum tank ware done in-house by Magni and of course their "swan neck" triple megaphone exhausts are mouth-watering as always.
The R3 weighs 154 kg dry-  giving even the Grand Wizards of Lightness, NCR ,a run for their money!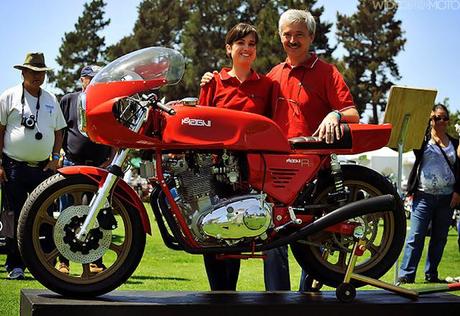 Giovanni and Valentina Magni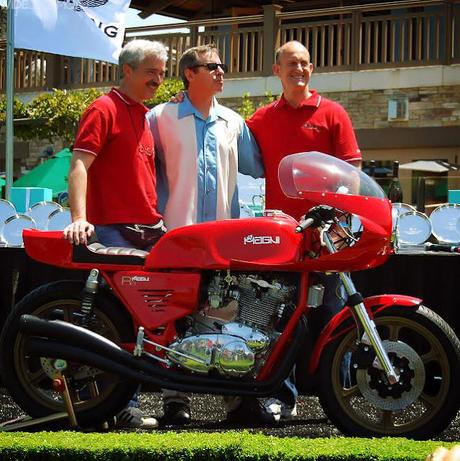 Giovanni Magni, Triple Tecs
Jerry Liggett
and owner
owner
Brent Lenehan.