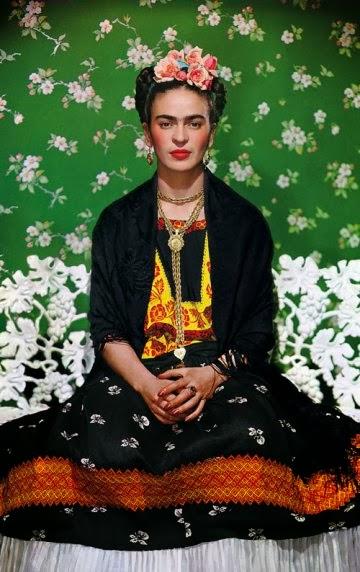 Frida in all her quirky Mexican splendor.
 Few people in this world inspire me as much as Frida Kahlo, mexican painter and artist. 
A true original, she was unashamedly eccentric and colorful and intensely different not out of desire to impress others, but just because she could not be any other way.
Since talking about her personal story –full of fantastic events and fascinating details– would take a post of its own, I decided instead to write about the facets of Frida's life and personality that I find captivating.  Frida Kahlo was an all-over extraordinary person, but there are mainly two aspects of her character that I admire profoundly and wish to develop for myself.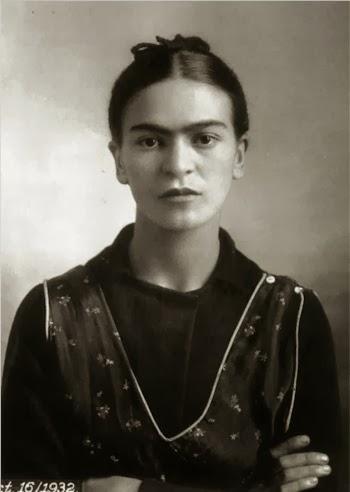 Portrait of a young Frida Kahlo.
 The first one is that she was fearlessly, intensely and unapologetically herself – just look at her  famous uni-brow and moustache that she proudly sported and even reproduced in her paintings. She let the seeds of her imagination come to life and bloom in every aspect of her life, from her very eccentric dressing style to her house and of course her paintings, creating her own alternate reality of super-concentrated quirky Mexican pride. She makes me feel lucky of having been born and raised in a land with such a rich and cheerful culture, full of tradition and diversity (and delicious food!).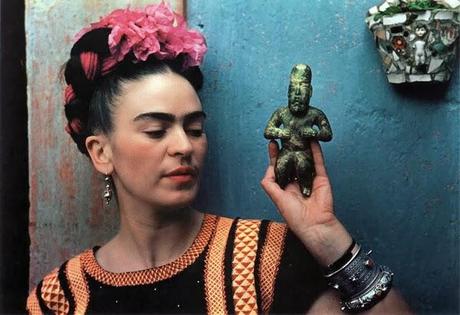 Frida's style was a fusion of the old traditional elements and her own colorful, modern twist. Metal bracelets, embroidered blouses and fresh flowers combined with her trademark hairdo give her a unique look.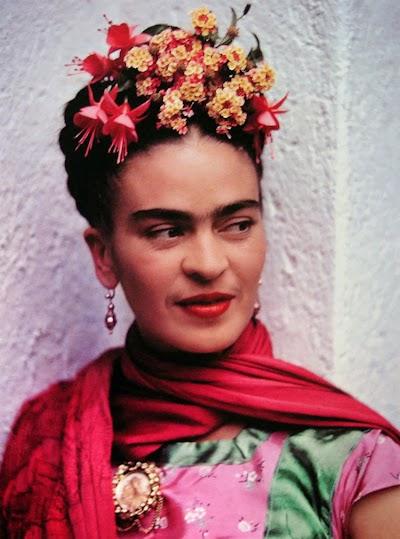 The ever-colorful Frida, a sight to behold!
 Frida Kahlo collected and embraced all things beautiful and magical about our country and culture, and embodied while adding her own twist, crafting her own unmistakable signature style.
I have always admired those people who managed to carve a very solid, iconic and unique aesthetic identity for themselves, that permeates everything they do. They turn themselves into a sort of fantastic character that stands out of the ordinary, with a magnetic aura that mesmerizes and captures the imagination of everyone around them.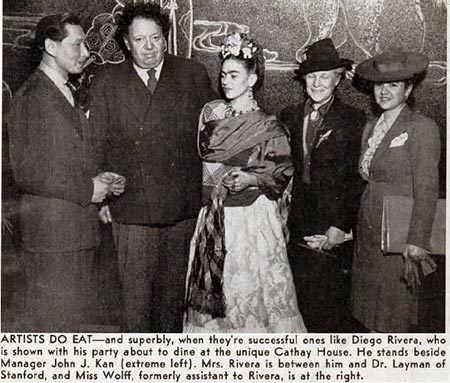 Just look at how Frida elegantly stands out in this newspaper picture!
Frida was such an spectacular looking woman, a prodigious example of self-creation; just take a closer look at her signature ensemble, composed mainly of traditional Mexican dresses overly accessorized with rustic-looking necklaces and bracelets, made of semi-precious stones and minerals.
On top of that, she favored big earrings with pendants and big stones, or unusual eye-catching designs. She adorned her iconic hairstyle with either fresh flowers or silk ribbons in bright colors, which she wore interlaced in her braids – a common practice between traditional indigenous people in Mexico. Her dresses were of the most exquisite variety of textures, patterns and colors, full of hand-made embroidery and lace.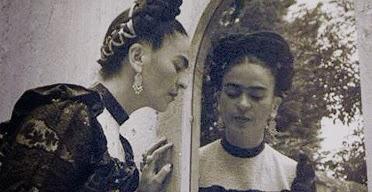 Lace and ribbons: some of the staples of Frida's style.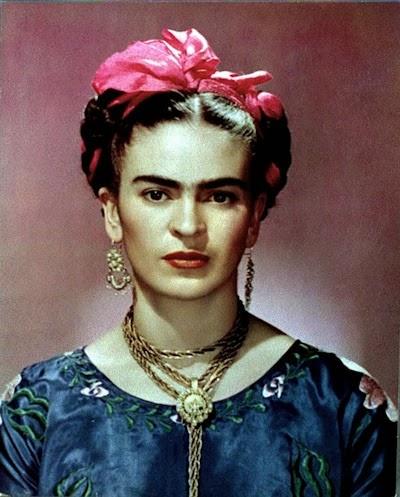 Large chandelier earrings and big, heavy metal chains complement the silky satin of her dress.
A visit to
La Casa Azul
(The Blue House), which was the house where Frida and Diego lived together, gives us an insight on how Frida's personal style extended and encompassed every aspect of her life. Decorated with ancient Aztec idols and figures, and even a small pyramid-like structure in the backyard, it showcases Frida Kahlo's intense affinity for all things truly Mexican and traditional. Beyond her aesthetics, though, lies her most admirable character trait: and unbreakable spirit that shone so intensely that it could not be held down by suffering and misfortune. She was condemned to a life of pain and great physical suffering as a result of a horrible accident involving a tram crash from which she never fully recovered.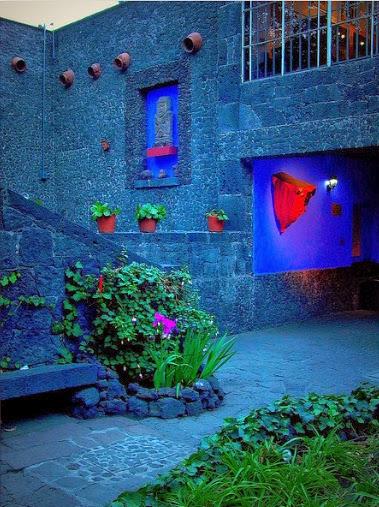 Photo by G. Rangel.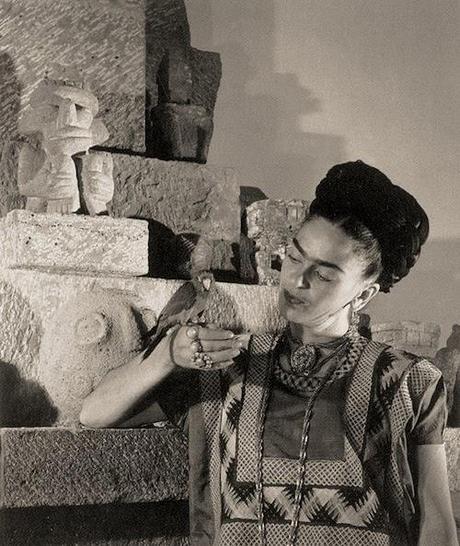 Frida at home, with one of her pets, a Mexican parrot.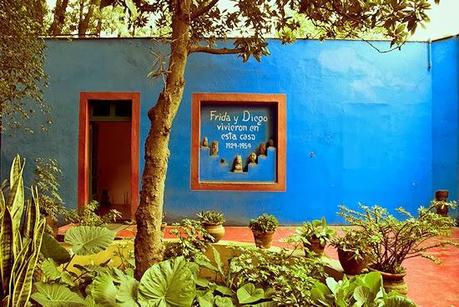 The writing on the wall reads: Frida and Diego lived in this house 1929-1954. Photo by G. Rangel.
 Her marriage with her fellow painter Diego Rivera brought her decades of heavenly moments interspaced with an equal measure of sorrow and torment, due to his repeated violation of her trust resulting in constant infidelities. Frida got a very hard hand to play in life, but still she filled her days with passion and adventure, propelled by her high-spirited and lively disposition.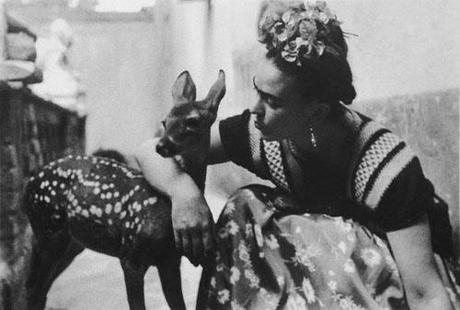 Frida with another one of her pets; she also had a spider monkey and a Xoloitzcuintle (a breed of hairless dog native from Mexico), so she was Mexican to the bone, even when it came to pets.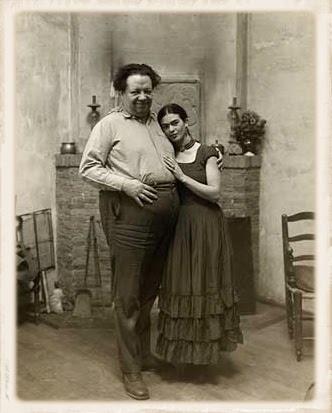 Frida and Diego in their younger years. Frida used to call Diego Panzón, which means "big bellied". I wonder why...
Still, Frida and Diego were very much in love with each other and always had a special connection, even during the bad times; the affection and complicity of these soul mates beams through old photographs and videos taken during their time together. 
Another remarkable aspect of Frida's philosophy -with which I identify fully-  is that she despised pretentiousness and placed a high value on authenticity and honesty in both art and life,
as many of her paintings make evident. Her works are an autobiographical and raw reflection of Frida's mind coping with her personal struggles and conflicted emotions; it's this quality what makes them so touching: you feel like you are looking right into her soul, and she was not ashamed of admitting her pain and transmutating all her negative baggage into artistic gold. She painted mostly for herself, though, without the intention of impressing critics and audiences with her intense imagery. However, that authenticity and unbridled explosion of creativity is precisely what captivates the spirit and continues to inspire people many years after her passing.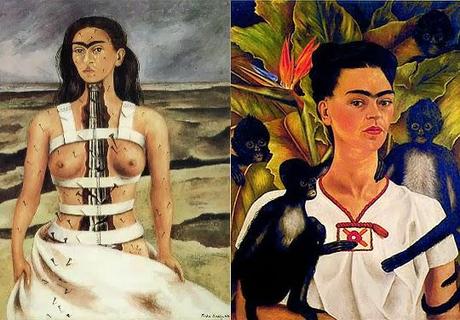 Some of Frida Kahlo's most famous self-portraits, showing different facets of her life. Left: The Broken Spine, right, Self-portrait with monkeys.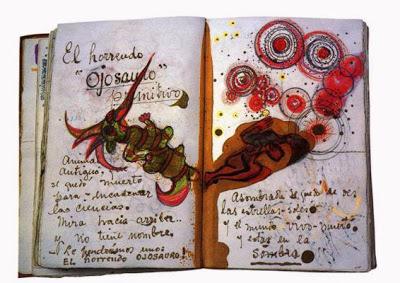 In addition to painting, Frida did some extensive art journaling to deal with her inner turmoil. This is an example of one of the pages from her journals.
If you are in need of an extra-dose of inspiration, I may suggest watching Frida, the biographical movie about the life and times of Frida Kahlo, starring Salma Hayek.
It looked like Salma was trying to set this project up for it to lead to an Oscar-winning performance, but she fell short. However,
the movie is a never ending display of exciting happenings and beautiful eye candy.
It portrays life in Mexico in such a lovely light, the way I like to remember it. For some people,
Frida is a portal into a magical world full of extravagant folklore and curious tradition;
for me, it is a collection of all the things that I love about my country, everything that makes it unique and charming. I felt so homesick when I last saw it a week ago… I can't wait to go back and feel the embrace of my beautiful land and my people.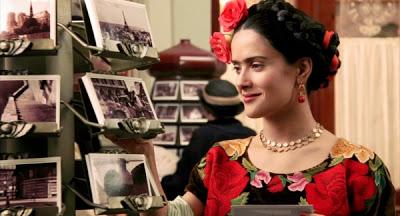 Salma Hayek's Hollywood version of Frida Kahlo.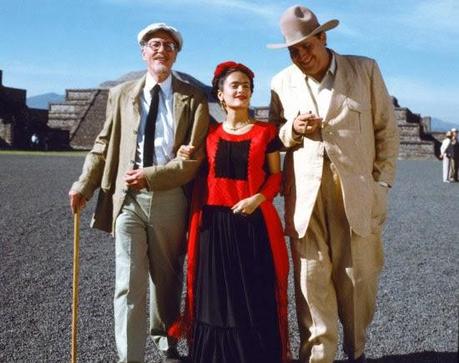 Sunday stroll with Trotsky, visiting the Moon and Sun Pyramids in the Archeological Zone of Teotihuacan.
  Thank you for reading!