I'm sure you will all have heard about the new Bourjois Magic Nail Polish Remover which is now available in Boots and Superdrug for £4.99 (although from what I've heard they are very hard to get a hold of), and yes I was almost going to jump on the bandwagon too. That was the plan until I heard about this super affordable version available in none other than Home Bargains for the bargain price of just 85p(!) which is an absolute steal. The credit for this find goes to the lovely Charlotte from Confessions of a Small Town Girl who posted about this little tub from the bargain land that is Home Bargains. So of course, the next time I was in my local store I had to pick this up and give it a go.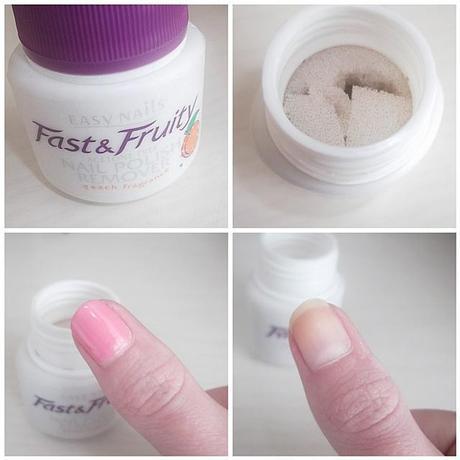 This small tub contains 50ml of product which is less than that of the Bourjois Nail Polish Remover, but honestly, for 85p you really can't complain. On opening the tub you are faced with a sponge similar to that of the Bourjois version, with a cross shaped cut-out to plonk your finger into (please excuse the state of mine as pictured above, it has had its fair amount of use already and I think my crazy finger twisting got the better of it). The sponge is soaked with acetone free nail polish remover and is also mentioned as having a peach fragrance which is definitely visible on opening the tub. It was a very strong smell to my sensitive nose but after a little while you do get used to it and can smell more of the peach fragrance as opposed to the strong smell of nail polish remover.
All you need to do is take your finger and push it into the opening of the sponge, twist it around a few times and voila, you have a nail polish free finger. I was amazed at how quick and simple it makes what used to be such a daunting task with numerous cotton pads. I would say that either the formula of the nail polish remover or the sponge itself can leave your nail and the surrounding skin a little dry, however this can soon be fixed after washing your hands and applying a little hand cream.
All in all I'm very happy with this cheaper version of the magic nail polish remover which seems to have taken over the blogging world, as I think £4.99 is a bit much to pay. If you're like me and want to achieve the same thing but not have to spend as much money, I would definitely recommend this little tub if have access to a Home Bargains store.