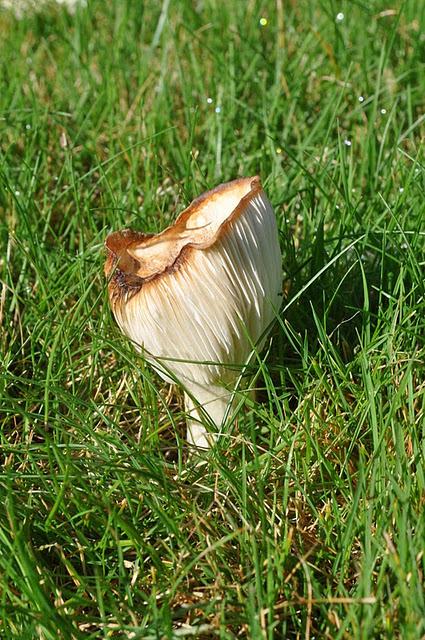 Yesterday I made my first venture into the highly complex, cult-like world of mycology. Well, sort of.  Joining a mixed group of die-hard mushroom enthusiasts, photographers and fellow novices we set out on a guided foray through the grounds of Dyffryn Gardens, all led by our guide for the morning Teifion Davies.  
Joined by a friend, who later turned out to be the female mushroom hunting equivalent of  a Lamotto Romagnolo,  we made our way to the venue on one of the hottest days of the year.  This unexpected autumn heat didn't bode well for finding delicate fungi, this coupled with my inability to find the "other" walking shoe before leaving the house (why is this always the case?) led to a rather uninspiring and frustrated start.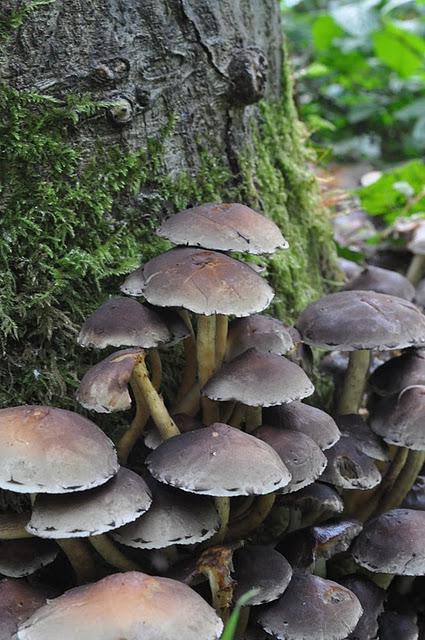 In my infinite naivety and with my mind on a fungal feast, I had premature and preconceived ideas of how the day would play out.  I imagined the group setting out with empty trugs only to return with a bounty of edible delights that would be cooked up for lunch or later taken home to enjoy.  But with my stomach ruling my mind, and having taken influence from a blog post by Zoe Lynch, I later discovered that my ideas were slightly askew and this led to many a rumble as we meandered through the gardens.  I hadn't considered the possibility that people would be interested in mushrooms that were neither edible nor attractive, but interested they were.  Squeals of excitement came from Fungi-crazed ladies in cargo shorts - "I've found a Mushroomus superduperius!".  If it wasn't edible I wasn't interested and this is where I learned one the most important lessons in mycology – know your enemy!
The UK has an amazing range of fungi and to the untrained eye it's incredibly difficult to differentiate between those that are tasty and those that would kill you.  Gills, pores, spores and stipes all give clues to what fungi you're looking at but giving a positive I.D. requires serious dedication to mycology and nerves of steel.  It appears that the balance of edible versus inedible species is stacked against us and I would be rather reluctant to go picking alone with my lack of knowledge.  Then again my friend the mushroom hunter did say that you should leave some of the offending mushroom in the kitchen when you're cooking it – I guess the ambulance crew appreciates this.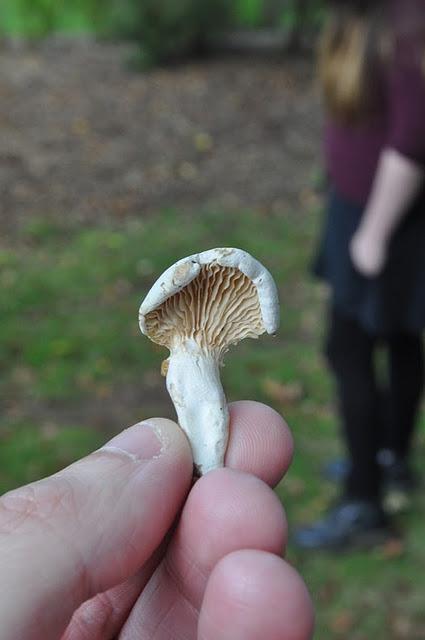 Dyffryn was a great setting for the day and we managed to find so many different species.  We walked through the arboretum where we learned about common associations between fungi and particular tree species.  We found many Milkcaps, some of which smelled of coconut, Tricholomas, Deceivers, Belitus and Agaricus.  We found and positively identified one edible species in this part of the gardens that had a wondrous floury smell and is commonly known as "The Miller" (Citopilus prunulus).  Unfortunately, this mushroom was solitary and rather small.  My hopes of a nice omelette were dwindling.
It was interesting to see decompostion in action in the gardens.  A Sorbus had died recently and was  absolutely surrounded by a species of fungi called a Sulphur Tuft.  This species looked ripe for the picking but once told that this one was also toxic, I kept my distance.  This species is a saprophyte and lives on dead plant material, tree trunks, roots and bark – a sure sign that if you see it in the garden your beloved, leafless tree has moved to the big arboretum in the sky.  Other sightings here included some small bracket fungus and cramp balls.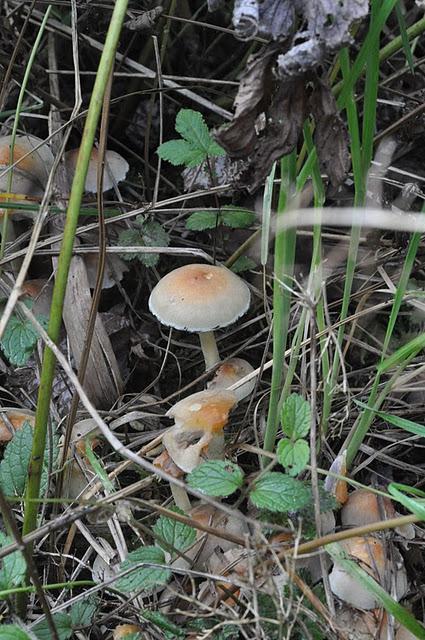 Moving through the garden we stumbled upon heavily laden apple trees and at this point my stomach, having given up any hope of a mushroom feast, cried out for a fresh windfall.  With my apple in hand we moved on to the Theatre Garden where I found my first group of mushrooms in the unmown turf (not to be outdone by  my friend the mushroom magnet).  I found a couple of wax cap species  – The Parrot Waxcap (Hygrocybe psiitacina), which was a gorgeous shade of orange, and The Meadow Waxcap (Hygrocybe pratensis).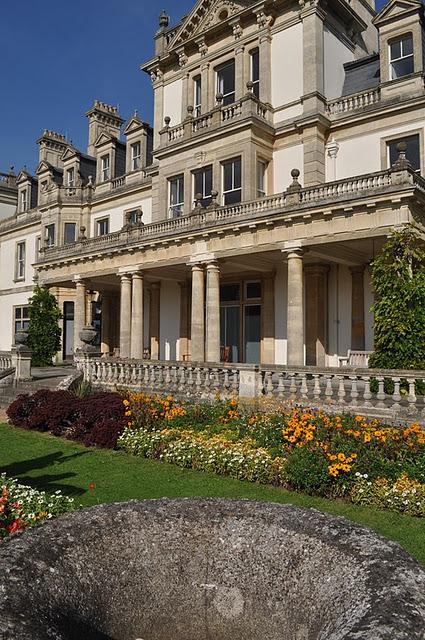 As we passed the big house at the end of our foray (which I'm almost certain was featured in the latest series of Dr Who) we made a quick stop at the fernery where we found the last of our species – The Inky Mushroom (Agaricus moelleri).
After a few hours of foraging we'd stumbled upon many different species and many others which I didn't manage to get the names of.  In this short space of time I learned a great deal about foraging and grown a new appreciation for just how complex identification can be.  This was a steep learning curve but one that only fuelled my interest further.  I may not have got a meal out of it but I almost certainly gained a new hobby.