Madhu Ganga in kedarnath -

 Madhu Ganga is a cool stream that flow behind the

Kedarnath

temple, it can be seen just behind the temple and it empties with

mandakini river. madhu ganga water fall is one of the best looking water fall in kedarnath valley. madhu ganga water falls flow continuous  in 12 month      

how to reach madhu ganga fall

- you can reach here from horse stable. it is  about 2.5-3 km trek away from horse stable and located on the trek of gandhi sarovar. the starting 2km of trek is very easy and comfortable with grassy land and rest of distance is a little difficult. you can enjoy whole trek of madhu ganga water fall with beautiful lands with thousand of colorful flowers. in distance of about 500mtr, you can view the flow of

doodh ganga(milky river) 

after reaching here you can feel a cool happiness and  like heaven as wonderful place and can see the view of kedarnath valley. after reaching  here please don't miss to see

mandakini river origin

and gandhi sarovar.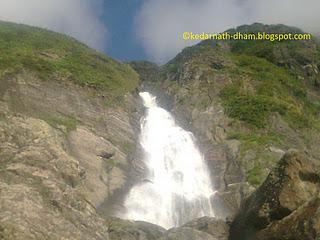 madhu ganga water fall
Note - 
you can carry some biscuit and bottle of water with you as you feel.