Second Kedar, Madhyamaheshwar door opening date is 20th may in 2016.
Madhyamaheshwar temple is forth temple among PanchKedar temple of Lord Shiva situated in Garhwal region of Uttarakhand state at 3497 meter from sea level. Madhyamaheshwar temple is worshiped in the navel form of lord Shiva
. 
The chief priest, Gangadhar Ling  enter inside temple and rang the temple bell with Vedic chants. Then the chief priest has done embellishment of lord Shiva statue. Temple door remain opens for 6 month from the date of opening. After 6 month lord Shiva Doli (statue) worshiped in Ukhimath.
On 18th may, Madhyamaheshwar Doli depart from Ukhimath temple complex to Mangoli village. Next day The Doli depart for Rakeshwari Devi temple in Ransi village for night halt. Next day Doli reached to temple via Gaundar, Bantoli, Khandrakhal and Nanu villages.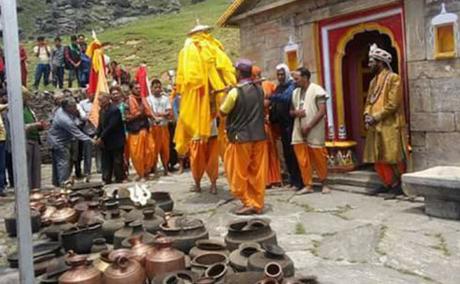 Madhyamaheshwar Temple
Madhyamaheshwar Temple Opening  Day Detail Panchang, 2016
Duration = 13 Hours 40 Min
Chaturdashi Tithi Begins = 05:27 on 20 May 2016
Chaturdashi Ends = 19:08 on 20 May 2016
Tithi = chaturdashi (चतुर्दशी )
Paksha = Shukla (शुक्ल)